ShowClix has the technology, tools, and experience to take your fandom convention to the next level. Our team's priority is to equip you with the guidance and support you need to ensure that your fans have an experience they'll want to repeat again and again. From comics to cosplay, to gaming to anime, and everything in between - we've got you covered.
Handle large on-sales seamlessly
We'll arm you with the tools you need to handle any size ticket sale volume. Our system makes it easy to setup virtual queues made specifically for your event, launch presales, or use application forms for ticket requests.
Partner with experts who take your success seriously
Whether it's one of our Client Service representatives offering system support, our call center taking the lead on your customers' questions, or our Event Operations team lending an extra pair of hands at the gate, we've got the experience to help your fandom event run smoothly from start to finish.
Give your fans the first impression they deserve
On event day, you need to focus on what matters most, getting eager fans through the door. Our system allows you to easily access accounts and verify badges while linking credentials to customers, all in real-time.
Utilize marketing tools to increase ticket sales
Our Marketing dashboard houses a collection of marketing tools to assist you in managing email campaigns, tracking important promotional URLs, increasing social media engagement, and more. Our Marketing Specialists can also help you craft creative marketing strategies based on your marketing goals.
Create new experiences for your fans and exhibitors
Our Tech and Event Operations teams created event solutions with RFID and QR codes that go beyond scanning guests in quickly and securely. By utilizing our integrated lead capture, a quick tap of a badge allows fandom goers to effortlessly leave a "digital business card" for exhibitors to download at their convenience.
Utilize reporting tools built to anticipate your needs
Our system has the reporting features fandom events need to succeed. Run reports, define specific customer segments, and compare year over year ticket sales on multiple timelines to detect sales trends and answer questions about customer behavior.
Our Fandom Event Partners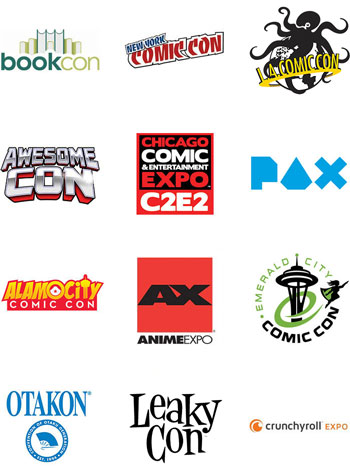 ShowClix is the partner that has the infrastructure to allow us to have happy fans, safe fans, and a really kick ass show.
Lance Fensterman
ReedPOP/New York Comic Con
Whenever we first met with ShowClix and realized the time and effort they were willing to invest in us, it was kind of a no-brainer. We've been more than satisfied with the level of service, and haven't looked back.
Mark Steinman
Replay FX