With a complete suite of event ticketing and analytics tools, ticket sales are just the beginning of what ShowClix can do for festival organizers. Our team's priority is to supply you with the support you need to make sure your festival goers have an experience that guarantees they'll want to come back next time. From beer to wine, to music to dance, and everything in between - we've got you covered.
Enlist on-site admissions experts
Our Event Operations team is here to assist you from start to finish. Whether we're executing an admissions strategy, lending an extra pair of hands for event day staffing, or training your team on our admissions technology, we work to make your event day as successful as possible.
Sell tickets from a box office that works for you
We offer a toolbox of products that enable you to scan your attendees through the gate with ease. Reduce wait times with customer lookup, utilize split payment capabilities, grant proper permissions, and try our other flexible options designed to increase admissions efficiency.
Handle large on-sales with ease
We'll supply you with tools that can handle massive ticket sale volume with fraud protection integrated into the sales process. Our system can launch secure presales with password protection options, streamline ticket requests with application forms, and set up virtual queues tailored to your festival.
Invent new experiences
Our Tech and Event Operations teams created event solutions with RFID and QR codes that go beyond scanning festival goers in quickly and securely. By utilizing our integrated lead capture, a quick tap of a badge allows attendees to effortlessly leave a "digital business card" for exhibitors to download at their convenience.
Amplify your social media presence
Our system has built-in social media features that let you connect with your fans on the platforms they use the most. Connect your social accounts to increase engagement, sell tickets directly on your Facebook page, and let your attendees post their RSVP to your event right from the receipt page. In addition, our Marketing Specialists can help you craft creative social marketing strategies that drive ticket sales, grow event awareness, and maximize your fan engagement.
Gain back valuable time
Automate the tasks of your event marketing and pricing strategy so you can focus your energy elsewhere. Our system can automatically post on social media promoting urgency when certain inventory levels are hit, increase ticket prices once you've sold out of a specific ticket type, or alert your staff of set milestones.
Our Festival Partners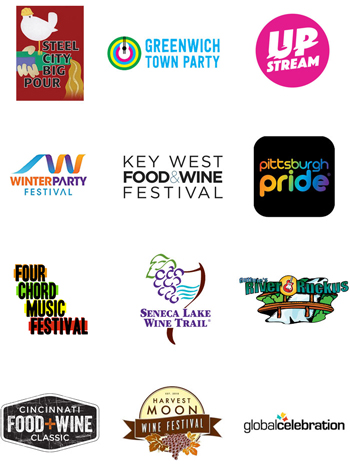 ShowClix's ticket scanners are fabulous, and the technology is seamless. We processed all ticket holders in record time!
Mindy Schwartz
Steel City Big Pour
Since switching to ShowClix, our ticket releases have been better than ever! Their virtual queue capability allows our customers to have a smooth, secure, and easy ticket buying experience. We really appreciate all their team has done for us thus far.
Scot Weicker
Greenwich Town Party