XXXY Hot Mic
Multiple Dates & Times
Get Tickets
Details
Comments
Event Description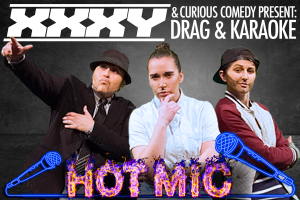 Advanced Ticket $5

Your local boyband is here to offer a fusion of drag performances and karaoke! Join us every 2nd Friday at Curious Comedy to sing your hearts out and enjoy the performances of XXXY (triple XY) and their guests!! Bring proof of vaccination and a face mask, which you can remove either when you're singing or eating/drinking one of the delicious options from the bar. Tips for performers, KJ, and bar staff are encouraged. Admission is free Curious fam and students!

Find our performers on Instagram:
@triple.xy.dragkings

WE WILL BE CHECKING PROOF OF VACCINATION AT THE DOOR.
All staff, performers, and audience members must wear masks when not eating, drinking, or performing.