World War II Fiction Panel
Thu. Nov 11, 2021 at 12:15pm EST
Get Tickets
Details
Comments
Event Description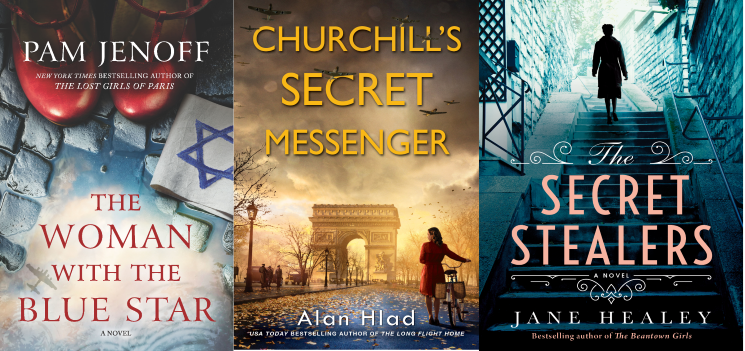 Luncheon & World War II Fiction Panel
Pam Jenoff & Alan Hlad & Jane Healey
Presented by the Katz JCC with In-Person Luncheon
Joining us Virtually? Pick up a boxed lunch from the J at 11:00 am
In conversation with Marcy Dash Friedman, Owner, Dashing Designs and Katz JCC President
Sponsored by Dashing Designs
Pam Jenoff
The Woman with the Blue Star
Sadie Gault is 18 and living with her parents amid the horrors of the Kraków Ghetto during World War II. When the Nazis liquidate the ghetto, Sadie and her pregnant mother are forced to seek refuge in the perilous sewers beneath the city. While on an errand in the market, Ella catches a glimpse of something moving beneath a grate in the street. Upon closer inspection, she realizes it's Sadie hiding. Ella begins to aid Sadie and the two become close, but as the dangers of the war worsen, their lives are set on a collision course that will test them in the face of overwhelming odds.
Alan Hlad
Churchill's Secret Messenger
Incorporating many real historical events and people from WWII, this enthralling novel follows Rose Teasdale, a young British woman recruited from Churchill's typing pool to become an undercover spy in Nazi-occupied France, and Lazare Aron, a Jewish French Resistance fighter. Churchill's Secret Messenger is a stirring epic spanning the entire war, as an ordinary woman and man with extraordinary courage fight for what they love and know is right.
Jane Healey
The Secret Stealers
Anna Cavanaugh goes undercover as a spy in the French Resistance to help steal critical intelligence that could ultimately turn the tide of the war.
Dispatched behind enemy lines and in constant danger, Anna is filled with adrenaline, passion, and fear. She's driven to make a difference for her country and herself. Whatever the risk, she's willing to take it to help liberate France from the shadows of occupation and to free herself from the shadows of her former life.
Note: If you are viewing this Virtually - YOU WILL RECEIVE THE ZOOM LINK 24 HOURS BEFORE THE PROGRAM AND AGAIN 1 HOUR BEFORE. This is a proprietary link that is unique to you and cannot be shared. If shared, you will not be able to access the program.