Witch Prophet, Mighloe, Eyeda Sophia
Fri. Dec 10, 2021 at 8:00pm EST
Price: 5.00 CAD $
19 and Over
Get Tickets
Details
Comments
Event Stats
Price: 5.00 CAD $
19 and Over
Event Description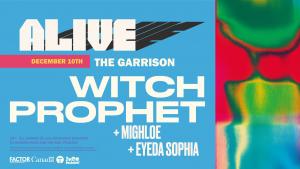 Witch Prophet is a queer, Ethiopian/Eritrean, singer-songwriter, and the Co-CEO of Heart Lake Records. She provides her fans with a soundscape of vocal layers, loops, raps, and harmonies on a bed of hip-hop, jazz, and soul-inspired beats. Think Erykah Badu meets Lauryn Hill meets Portishead. She finds depth and connection in creating music as a portal for self-growth and discovery, as she navigates and better understands her cultural and queer identity.

Witch Prophet has shared the stage with and opened for acts like THEESatisfaction, Shabazz Palaces, Lido Pimienta, A Tribe Called Red, Climbing Poetree, SAMMUS, Sean Leon, JPEGMAFIA, The Cliks, Rae Spoon, Zaki Ibrahim, Kae Sun, and LAL, to name a few.

Her vocals have appeared on Shad's "Flying Colours" LP (2013), 2009's Polaris Prize winner Fucked Up's LP "Dose your Dreams" (2018), as well as DillanPonders newest album "Because We're Alive" (2020). She has toured Europe independently twice; playing shows in Paris, Amsterdam, London, and Berlin, as well as performed at North American and European music festivals like: Black Women Rock, New Skool Rules, Soul Of Brooklyn, Allied Media Conference, Montreal Jazz Festival, Sappy Fest, Electric Eclectic, Summerworks, Ottawa Capital Pride, Pride Toronto, Pop Montreal, Halifax Pop Explosion and so many more!

In March of 2020, Witch Prophet released her Ontario Arts Council funded sophomore LP "D.N.A Activation". An ode to her Ethiopian and Eritrean ancestral roots, fusing Jazz, Hip-Hop, Soul and RnB with songs sung in English, Amharic, and Tigrinya. Co-produced by herself and her partner SUN SUN, praised by press and music lovers alike, DNA Activation was shortlisted for the 2020 Polaris Music Prize. She has since been signed to Ki An Projects, a new label in the UK for the release of a deluxe edition of DNA Activation. The video for her song Tesfay directed by Leah Vlemmiks was nominated for the 2021 Prism Prize and was an official selection at the 2021 SXSW Music Video awards. She was the only Canadian nominee and was alongside artists like Run The Jewels. A new video for Makda was released May 28th which debuted on FADER.

with Mighloe, Eyeda Sophia

As part of ALIVE:

The Garrison is pleased to announce ALIVE, an eight-month show series featuring Canadian acts, celebrating the return of live music. Beginning September 29, performing artists include Cadence Weapon, Witch Prophet, Corridor, Dorothea Paas, Odonis Odonis and more and will be joined by local acts and Dj's. All shows will have a ticketed price of $5 with all proceeds going to to the Unison Benevolent Fund and the AMY Project (Artists Mentoring Youth) .

**To minimize the impact of COVID-19, support the health and safety of our guests, and in compliance with city and provincial requirements, The Garrison is prepared to ensure all measures are taken to abide by the protocols dictated by Public Health Ontario.

this project has been made possible in part by the government of Canada. Ce projet a été rendu possible en partie grâce au gouvernement du Canada



IMPORTANT INFORMATION REGARDING PROOF OF VACCINE

The Ontario Government has mandated a Proof of Vaccine policy that takes effect on September 22, 2021. Ontario Government Proof of Vaccine receipt (digital or paper) and corresponding government I.D. will be required to enter and attend an indoor concert/event.

Information below how to access and download your Proof of Vaccine from the Ontario Government.

Once the Proof of Vaccine APP is available (October 22) we will be switching to that system that features a digital QR code.

https://covid19.ontariohealth.ca/

In advance of September 22, all Ontarians can print or download their vaccination receipt from the provincial booking portal. The Ministry is working on additional supports and services to assist Ontario residents who need help obtaining proof of vaccination, including requesting a copy be sent by mail. Those who need support obtaining a copy of their vaccination receipt including those who do not have access to a computer or printer can call the Provincial Vaccine Contact Centre at 1-833-943-3900.

Ontario is developing an enhanced vaccine certificate with a unique QR code to make it safer, more secure and convenient to show that you have been vaccinated, when required to do so. The enhanced vaccine certificate and verification app will be available by October 22, 2021. Ontario's proof of vaccination guidance will be updated to reflect the new processes.