Fall Fête on The Village Green
Sat. Oct 19, 2019 1:30pm - 4:00pm EDT
$75.00 - $100.00
All Ages
Get Tickets
Details
Comments
Event Stats
$75.00 - $100.00
All Ages
Event Description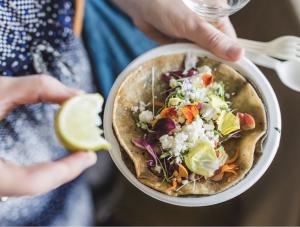 Our 10th and final festival will conclude, as it always does, under a big tasting tent at the Village Green at Southern Village.
The Fall Fête will feature more than 60 chefs, artisans and beverage producers from across the state of North Carolina. Beverages will include sustainably-sourced beverages from across the globe, including microbrews, spirits, craft sodas, organic coffees, drinking vinegars, kombuchas, and biodynamic, organically-grown and natural wines.
We'll also have an Artisan Tent – sponsored by Seagrove NC, the Pottery Capital of the US – with demonstrations by local potters and samples from makers of chocolate, nut butters, cheeses, jams, pastries, and more. Cookbook author Jean Anderson, author of Kiln to Kitchen (published by UNC Press in September 2019), will be on hand for a book signing.The Fall Fête runs from 1:30 to 4 p.m.
Early bird tickets are $65 (no alcohol), $80 (alcohol included) and $100 (VIP). Ticket prices increase on September 7, 2019, to $75 (no alcohol), $90 (alcohol included) and $120 (VIP).
For the early VIPs, we will have Brandon Sharp with Hawthorne & Wood in Chapel Hill, Jake Wood with Plates Kitchen in Raleigh, Brendan Cox with Oakleaf in Carrboro, Melissa and Lee Katrincic with Durham Distillery and Sean Umstead (using Cathead spirits) with Kingfisher in Durham serving up special tastes.
The restaurants this year:

Heirloom in Charlotte, kō•än in Cary, Pod Cafe in Raleigh, French Broad Chocolate Lounge in Asheville, Postal Seafood in Pittsboro, Yolk Cafe in Charlotte, Vimala's Curryblossom Cafe in Chapel Hill, Bonjour Y'all Bakery in Davidson, Crossroads Chapel Hill at The Carolina Inn in Chapel Hill, Crook's Corner in Chapel Hill, Mandolin in Raleigh, Pizzeria Toro in Durham, La Farm Bakery in Cary, The Asbury in Charlotte, Old North Meats & Provisions (coming soon) in Durham, Cortez Seafood + Cocktail in Raleigh, Root Cellar in Chapel Hill, Saint Jacques in Raleigh, Ashten's in Southern Pines, Counting House at 21C in Durham, Harvest 18 in Durham, Barrister's at the Esquire Hotel in Gastonia, Papa Shogun in Raleigh, 300 East in Charlotte, and Guglhupf in Durham and Chapel Hill. A few more to come...

Food artisans this year, in the tent sponsored by Seagrove, NC - the Pottery Capital of the U.S.:

Sweet Arielle Bakery (Preserves and Baked Goods), Chapel Hill Creamery (cheese), Big Spoon Roasters (natural nut butters), Fiddlehead Farm (jams and preserves), Chocolatay Confections (chocolates and candies), poppysol (herbals), Prodigal Farms (cheese), and King Cobra Apiary (honey). A few more to come...

Beverage participants include:
Botanist & Barrel (cider), Slingshot Coffee Co. (cold brew, sodas and teas), Sour Grapes (wine), Fullsteam Brewery (beer), Alley Twenty Six (cocktails/tonic), Boro Beverage (kombucha), James Creek Cider House (cider), Sercy Spiked and Sparkling (alcoholic sodas), Four Saints Brewing Company (beer), TOPO Organic Spirits (cocktails/spirits), Queen of Wines (wine), Durham Distillery (cocktails/spirits), Crude Bitters & Soda (shrubs and natural sodas), Carrboro Coffee Roasters (coffee), De Maison Selections (wine), Honeygirl Meadery (mead), Joe Van Gogh (coffee), Cathead Distillery (cocktails/spirits), Bacco Selections (wine) and Wine Authorities (wine). A few more to come...
Join the Conversation
Follow the event with #TerraVita2019