Fall Fête on The Village Green
Sat. Oct 19, 2019 1:30pm - 4:00pm EDT
92 days away
$65.00 - $100.00
All Ages
Get Tickets
Details
Comments
Event Stats
92 days away
$65.00 - $100.00
All Ages
Event Description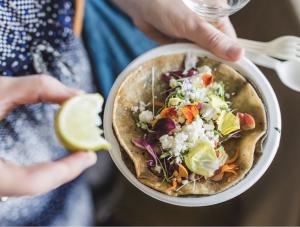 Our 10th and final festival will conclude, as it always does, under a big tasting tent at the Village Green at Southern Village.
The Fall Fête will feature more than 60 chefs, artisans and beverage producers from across the state of North Carolina. Beverages will include sustainably-sourced beverages from across the globe, including microbrews, spirits, craft sodas, organic coffees, drinking vinegars, kombuchas, and biodynamic, organically-grown and natural wines.
We'll also have an Artisan Tent – sponsored by The Heart of North Carolina Convention & Visitors Bureau and Seagrove Potters – with demonstrations by local potters and samples from makers of chocolate, nut butters, cheeses, jams, pastries, and more. Cookbook author Jean Anderson, author of Kiln to Kitchen (published by UNC Press in September 2019), will be on hand for a book signing.The Fall Fête runs from 1:30 to 4 p.m.
For the VIP experience, guests can enter at 12:30 pm and enjoy signature cocktails and hors d'oeuvres by four distinguished chefs for the first half hour, then have the opportunity to enter the big tent 30 minutes earlier than standard admission. Early bird tickets are $65 (no alcohol), $80 (alcohol included) and $100 (VIP). Ticket prices increase on September 7, 2019, to $75 (no alcohol), $90 (alcohol included) and $120 (VIP).
The participating restaurants, beverage producers and artisans will be announced by August 15, 2019.
Join the Conversation
Follow the event with #TerraVita2019
View Everyone
Who's Going?

Marcie V

Karen W

Michael A

Charlie L

Melea L