Topsy-Turvy Quarantine Series: Patience
Sun. Nov 1, 2020 at 12:00am EDT
Get Tickets
Details
Comments
Event Description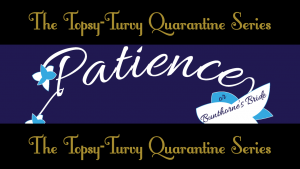 The Pittsburgh Savoyards present: The Topsy-Turvy Quarantine Series, continuing with our Spring 2017 production of Patience.
After purchasing a ticket, you will be emailed a link to watch a streaming recording of the show. Please note that this email may take up to 10 minutes to arrive. If you have still not received an email after 15 minutes, please contact information@pittsburghsavoyards.org and we will be happy to assist you.
Tickets will be available to purchase until October 15.
PLEASE NOTE that the date and time on the event (November 1, 12AM) is due to system limitations only; you will be able to view the performance at any time, as many times as you would like, until November 2.
---
Music Director – Guy Russo
Stage Director – Robert Hockenberry
Assistant Stage Director – Andy Hickly
Producer – Lynette Garlan
Production Stage Manager – Andrea Carriker
Assistant Stage Manager – Casey Ciocco
Technical Director – Edward Griffiths
Lighting Designer – Garth Schafer
Costumier – Ellen Rosen
Synopsis: All of the maidens in the village are besotted with Reginald Bunthorne, a moody and handsome poet, but he has eyes only for the simple milkmaid, Patience. The problem? Bunthorne's artistic ways are all just an act to attract women to him--he doesn't even like poetry! Besides, Patience is in love with her childhood sweetheart, who happens to be a real poet named Archibald Grosvenor, but feels she cannot marry him because he is just too perfect. In the meantime, the serious (and decidedly non-poetic) platoon of Heavy Dragoon Guards that were meant to marry the village maidens find themselves dismayed and perplexed by their sudden loss of prospects. One of Gilbert & Sullivan's most successful shows, Patience is a rollicking satire that pits the straight-laced ideals of the Victorian era against the passions and indulgences of the 1870s Aesthetic Movement, ridiculing each side of the spectrum.