Red Beans & Rice Combo: Listen Locally Downstairs
Thu. Jun 29, 2023 at 7:00pm EDT
Event Description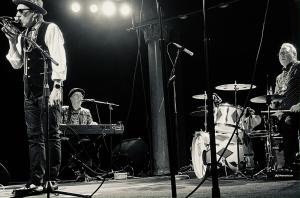 The Red Beans & Rice Combo are serious musicians who don't take themselves too seriously. The fun-loving trio is known for their danceable mix of New Orleans R&B, early rock & roll nuggets, and barroom ballads, with a jazzy dash of Tin Pan Alley, and a side of wit and humor.

The Combo features the world-celebrated early jazz stride pianist Tom Roberts (a Foxburg regular on piano, whistling & vocals), along with Dave Klug on drums and his custom-built "Kluger Soundboard," and Wayno on vocals, harmonica, & ukulele.

Join us in our newly improved Studio, an intimate space with a club-vibe!
Complimentary snacks. Beer and wine by donations.
Outside alcohol/BYOB is not permitted
All ticket sales are final. .