The Gotham All-Stars (Weekday Series)
Tue. May 4, 2021 7:00pm - 8:30pm EDT
Price: $20.00
18 and Over
Event Stats
Price: $20.00
18 and Over
Event Description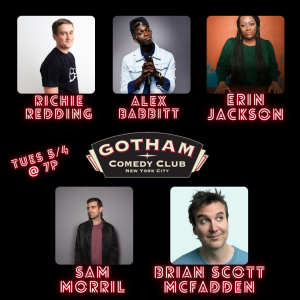 A professional Showcase featuring comics from Netflix, Showtime, HBO, The Daily Show, The Tonight Show, Late Night, The Late Show, The Late Late Show & various TV shows and films.
Hosted by Richie Redding with Alex Babbitt, Erin Jackson, Sam Morrill, Brian Scott McFadden
IMPORTANT SEATING NOTE:
All tickets are sold as tables of 2 or 4 to guarantee you are only seated with your party. If your ideal table size doesn't show it is sold out.


Doors open 45 Minutes prior to showtime


There is a 2 beverage minimum per person


All sales are final


Masks are required unless eating or drinking


Sam Morril is an American stand-up comedian from New York City. A former intern on The Colbert Report, Morril appeared on The Late Show with Stephen Colbert on Friday, April 22, 2016. Morril has made multiple appearances on Conan on TBS. He is currently the host of People Talking Sports on MSG Network.
Alex Babbitt was born in Brooklyn, NY. He started doing comedy at the age of 16! In the past few years, Alex has expanded his career tremendously. He is constantly honing his craft, and has opened at infamous comedy clubs, such as Caroline's, Broadway Comedy Club, Comedy Cellar and EastVille. Alex has opened for comedians like Tommy Davidson, Earthquake, Melanie Camacho, Cocoa Brown and SNL's own Jay Pharoah. He has traveled and performed at different popular comedy club spots in Connecticut, Virginia and all the five boroughs in New York City. Alex's talents have also brought him hosting gigs for events like the highly regarded, "Dean's List" College Tour, celebrity vocal coach, Craig Derry's tribute showcase, The Gifted Showcase and other entertainment events around the New York City area. He's the founder and producer of a monthly event called "Fresh Face Fridays" which happens every second Friday of each month. The event takes place at the People's Republic of Brooklyn and it boasts of all up and coming comedians and artist that want to highlight their talents. Want Alex to host your next event? Have a surprise birthday celebration or event you need an incredible comedian for? Find him on Facebook @"Alex Babbitt" on Instagram as "MrBabbitt335" on Twitter @ Mr_Babbitt and Youtube under "Alexander Babbitt".
Erin Jackson is one of the fastest-rising comedians in New York City. She works nightly in the city's top comedy clubs and most recently made her Netflix debut as part of Season 2 of Tiffany Haddish Presents: They Ready. She's also appeared on Late Night with Seth Meyers, CONAN, The Ellen DeGeneres Show, This Week at the Comedy Cellar, truTV's Laff Mobb's Laff Tracks and Last Comic Standing. Erin co-hosted three seasons of Exhale, a panel talk series on the ASPiRE television network, and has been a panelist on sports and pop-culture programs on MSNBC, NFL Network and VH-1. Her comedy album, Grudgery, was released in 2018 and debuted at No. 1 on the iTunes comedy charts.nnErin is a proud alumna of Howard University and a die-hard fan of the Philadelphia Eagles.
View Everyone
Who's Going?

Courtney N

Breanna F

Jennifer S

Vivian James R

Eszter T