Talk of the Town
Multiple Dates & Times
Get Tickets
Details
Comments
Event Description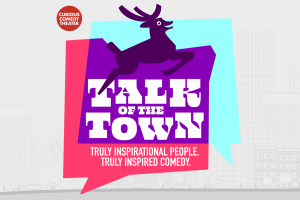 Inspired improv comedy and storytelling.
Talk of the Town – improv comedy inspired by Portland's movers and shakers
Looking for cool things to do around Portland? Curious Comedy has your back!
Every third weekend of the month at 7:30 in the Annex Theatre, Talk of the Town invites special guests to tell us all about the amazing things they are up to in the City of Roses. These special guests are Portlanders who're making art, making food, or making a difference! Their stories and lives become inspiration for our hilarious team of improv comedians as they create characters and scenes on the spot that will have you in stitches.
Come see what all the buzz is about at Talk of the Town!
The rotating cast includes: Andrew Kathan, Annabelle Wright, Holly Wigmore, Jack Reibstein, Maddi Thompson, Matt Tominaga, Michael Buchanan, Monique Merrill, Myles Worthy, Ndem Nkem, Nikki Rodriguez, and Willow McCormick


COVID REQUIREMENTS
We require proof of vaccination or negative COVID test at the door. Masks are encouraged but not required.
ALL AGES
We are an all-ages venue! However, we don't guarantee all content will be family friendly. So, we'd say our shows are usually PG-13. Parental discretion is advised.
PARKING
We have a parking lot behind the theater and ample street parking immediately around the building.