TAHIR MOORE "Fast Mike" HBO's Insecure
Sun. Jul 3, 2022 at 7:00pm EDT
Today
$25.00 - $35.00
21 and Over
Event Stats
Today
$25.00 - $35.00
21 and Over
Event Description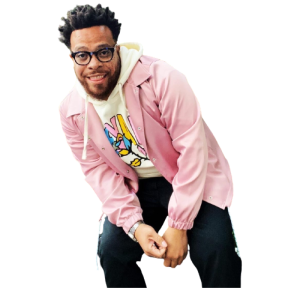 Tahir Moore is a stand-up comic, actor, writer and host. Originally from East St. Louis,IL, he graduated from Harris-Stowe State University in 2008. After getting robbed twice at gunpoint during the night shift at White Castle, he decided the food service industry wasn't for him, thus beginning his career in stand-up comedy.
Tahir began doing stand-up full time after moving to Los Angeles in 2009. He was able to hone his comedic material on inmates at a Los Angeles County jail, where he substitute taught various classes. During this time, Tahir also worked as a startline MC for the mud run company, Tough Mudder. Tahir has toured with comedians D. L. Hughley, Lavell Crawford, Affion Crockett and more.
  Tahir now works as an on-air personality and writer at All Def Digital, a digital media company. In addition to starring in commercials for K-Mart, True Car and Verizon, Tahir can be seen on his recurring role as "Fast Mike" on HBO's Insecure. Tahir keeps busy on and off the stage.He's currently on a quest to lose weight, with hopes of becoming a sex symbol. In his spare time, Tahir likes to battle rap, indoor skydive, and competitively bowl (with at 115 average score). 
Join the Conversation
Follow the event with #atlantacomedytheater