Super Duos - The World's Greatest Musical Duos
Wed. May 17, 2023 at 7:00pm EDT
46 days away
Price: $29.00
All Ages
Event Stats
46 days away
Price: $29.00
All Ages
Event Description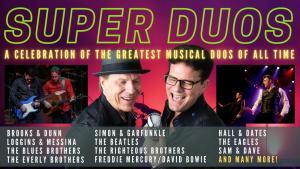 Experience a fast-paced, interactive, one-of-a-kind show featuring music from some of the greatest Duos of All-Time such as: The Righteous Brothers, Simon and Garfunkel, Hall and Oats, Loggins and Messina, The Everly Brothers, Brooks and Dunn, The Blues Brothers, Sam and Dave, and more!
Something special happens when two great voices sing together. Melody and harmony blend to create a signature sound that could only be created by those specific voices. Super Duos stars two veteran musicians - Pat Balder and Glen Everhart - who bring their jaw-dropping vocal blend - along with superb guitars, a good dose of comedy, and the experience of doing over 1,000 shows together - to deliver the greatest songs by the greatest musical duos of all time.
Songs that require two soulful voices... Songs you've lived your life with... Songs you know every word of... Songs that bring us all together and prove that two voices are so often so much better than one.