Strings on the Mon presented by City of Morgantown
Sun. Oct 18, 2020 1:00pm - 4:00pm EDT
Get Tickets
Details
Comments
Event Description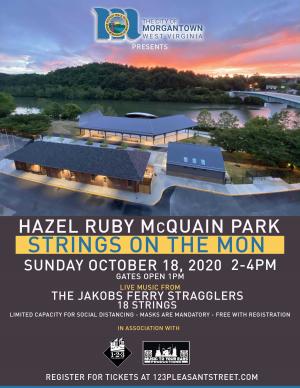 Enjoy a Sunday afternoon at the park with Strings on the Mon, a FREE highy energy Appalachia Americana and Old Timey Bluegrass event featuring two of the regions favorite acts. WV/PA/MD pickers The Jakobs Ferry Stragglers and Morgantown's own 18 Strings will be helping kickoff the celebration of the Grand re-opening of Hazel McQuain Ruby Amphitheater with a safe socially distanced outdoor event for the whole family to enjoy.
The event is FREE with online registration simply go to 123Pleasantstreet.com to reserve your seats for the show!
This is a limited capacity social distanced event. Groups must space 6 ft apart and all attendees must wear masks at all times and remain at your seats.
In association with Music To Your Ears Productions and 123 Pleasant Street.
The Jakobs Ferry Stragglers
Gary Antol, Guitar/Vocals/mandolin

Born and raised in the Washington County, PA town of California, Gary grew up in the foothills of Appalachia. His musical journey began at the age of 5 when his father began to give him guitar lessons in an attempt to avoid the destruction of the household guitar. After a few years of lessons from his dad, he studied with notable Pittsburgh Area guitarist, Rick Mals. As a high school student he played saxophone and guitar and won awards for songwriting and composition in Pennsylvania's statewide Reflections Contest. He also invited to participate in the district and regional honors bands. He attended Duquesne University where he received a Bachelor of Music in Sound Recording Technology and Jazz Guitar, studying with Pittsburgh Jazz Legend, Joe Negri. After graduation, he spent a few years playing on cruise ships and in amusement parks, playing all styles of music. He later spent 4 years in Nashville, were he rediscovered his live for roots music. After moving home, he spent one year as the lead guitarist for SW PA County Band, Ruff Creek. In 2010, He co-founded the bluegrass/country band, The Weedrags, finally finding a home in music that he loved. The band toured extensively throughout the north east, winning the 2011 Pittsburgh Acoustic Challenge, releasing two albums, The self-titled The Weedrags in 2011, and The Deemston Hiccup in 2013. Also in 2013, Gary became an endorsee of Andrew White Guitars, Morgantown, WV. Gary's song "The Breadline" was used a TV commercial for Red Blue Voice, a pro union affiliated organization.

Libby Eddy: Fiddle/Vocals

Libby Eddy is no stranger to the roots of Appalachia. Being raised in West Virginia, she was steeped in the old-timey sound and traditions of the area. She learned to play fiddle from her father, and to sing from her mother. Feeling at home on the stage, she was also active in musical theater and later attended West Liberty University for Music Education and Operatic Performance. As a member of The Jakob's Ferry Stragglers, she feels like she has finally come back to her roots, and therefore, come home.

Joe Dep, Banjo


Joe Dep, banjoist, is a native of Pittsburgh, Pennsylvania. Joe's initial inspirations emerged from hearing Jerry Garcia playing banjo. With a strong desire to learn from the best, Joe spent many summers studying banjo at the DelFest Academy in Cumberland, Maryland. He then landed a spot at the prestigious Berklee School of Music in Boston, where he had the pleasure of studying under the banjo maestro, Tony Trischka. The rich environment of Berklee and the Boston music scene allowed Joe to soak up the sounds of different cultures and as a result Joe grew as a musician, a composer, and an arranger. It is apparent from listening to him that he pulls inspiration from more than just the bluegrass genre. In addition to the Jakob's Ferry Stragglers, Joe is also a founding member of the Shelf Life String Band in Pittsburgh.



Riley Zimmermann, Upright Bass

Coming from his hometown of Dillsburg, PA, Riley's musicianship stems from a background in classical music. Starting on the classical guitar, he switched over to the double bass in high school and began to study music seriously. Riley's principle teachers have been Duane Botterbusch of the Harrisburg Symphony, Jeffrey Mangone of the Pittsburgh Opera, and Micah Howard of the Pittsburgh Symphony. As a performer and composer, he draws the most inspiration from musicians who cross the borders between classical and folk music, citing musicians like Edgar Meyer, Chris Thile, and Bela Fleck as major influences.

Another passion of Riley's is teaching: he graduated summa cum laude from Duquesne University with a B.S. in music education and is maintaining a growing studio of bassists. In 2016 Riley was featured as a guest composer and conductor with the PMEA District One Honors String Orchestra Festival. After his time at Duquesne, he went on to get an M.M. in double bass performance at Carnegie Mellon University. Riley has played with a variety of groups from a variety of styles, including the Shelf Life String Band, the Casual Hobos, Rachel Whitcomb and the Therapists, the Mixus Brothers, and the Johnstown and Washington (PA) Symphony Orchestras.



18 Strings is a thing that seems like a dream from far ago--
Big ol' bass and a mandolin and guitars in the cars and let's go!
Soulful sound from down underground, round Morgantown, WV
18 Strings is a thing that brings good songs all for you & me...

Get original songwriting together with inspired musicianship and you have something good.
Bring it back out from the wild forests (or wherever we get it from), parade it around town, and on into the kitchens and back porches
of Appalachian nights, get the fire going and the moonshine flowing...

The songs are innovative, while also returning the signals sent from Classic Rock and carrying on folk traditions of bluegrass, blues, and all that jazz too!

Join the Conversation
Follow the event with #123pleasant