Steve Madden On-Demand Event Recording
Thu. May 13, 2021 at 8:00pm EDT
Event Description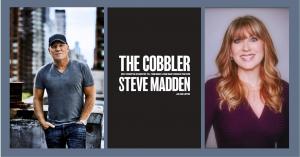 THIS IS THE RECORDING OF THE ORIGINAL EVENT (recorded on Thu., October 15, 2020).
After purchasing, you will receive the link in your confirmation email from ShowClix.
Steve Madden, The Cobbler: How I Disrupted an Industry, Fell from Grace, and Came Back Stronger Than Ever
In conversation with Holly Firfer, CNN Journalist  
Everyone knows Steve Madden's name and his shoes, but few are familiar with his story. Over the past thirty years Steve Madden has taken his eponymous shoe company from the fledgling start-up he founded with a mere $1,100 to a global, multi-billion-dollar brand. But Madden's mistakes, from his battle with addiction to the financial shortcuts that landed him in prison, are as important to his story as his most iconic shoes. In this raw, intimate, and ultimately inspiring book, Madden holds nothing back as he shares what it took to get here and the lessons he's learned along the way. From his unconventional hiring strategies to his slavish devotion to product, Madden offers a business perspective that is as unique as his styles. In The Cobbler, readers are treated to the wild ride though his rise, fall, and comeback. But they will also walk away uplifted by a man who has owned up to his mistakes and come back determined to give back and use his hard-won platform to create positive change.
Steven Madden is an entrepreneur, an award-winning designer, and a business titan whose eponymous company is currently worth 3 billion dollars. On the flip side, he is an ex-con, a recovering addict, and a devoted family man. Considered the fashion footwear mogul of the 21st century, Madden has an innate sense of what's hot, what's next, what's exciting, and more importantly, how this will translate to the customer. He is also an active philanthropist and mentor who supports a number of organizations that help those in need of a second chance.
Presented in partnership with the National JCC Literary Consortium
All books include shipping to the US and Canada only. Books will be shipped after the event.
EVENT RECORDINGS:
Event recording for ticket holders will be available 24 hours after the event for a limited time; please email bookfestival@atlantajcc.org if you would like a copy.
On-demand recording of the event may be purchased on this ticketing page after the program.