Spookville: Halloween Park- Postponed until 2019
Multiple Dates & Times
Event Description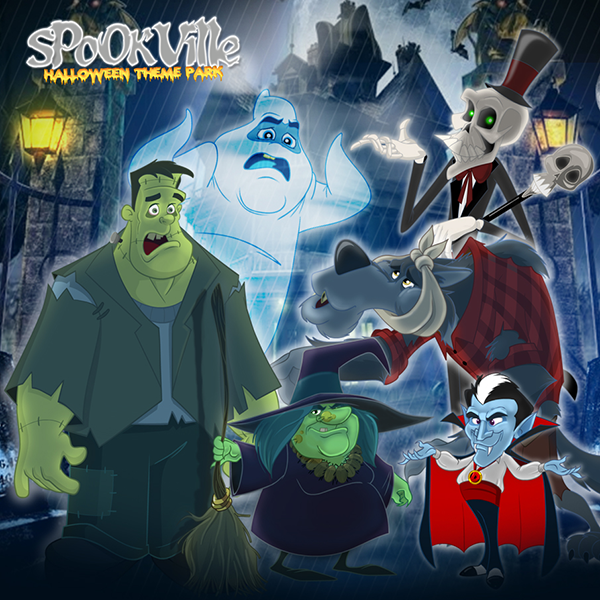 SPOOKVILLE POSTPONED TO 2019!
Due to unforeseen circumstances, we regret to inform everyone that we have made the hard decision to postpone "Spookville: Halloween Theme Park" until October 2019.
All ticketholders have been issued refunds. Our ticketing site Showclix states refunds will post within 7-10 business days. If you have any questions, please email us at info@spookville.com.
In our commitment to creative excellence, we are continuing our planning efforts to bring Spookville to life bigger and better next year. We would like to thank all of our loyal Spookville supporters who bought tickets and everyone who expressed excitement to attend and support our attraction. We and all of our Spookville monsters look forward to seeing you in 2019!

~Frankie, Dingbat, Toothache, Worrywart, Boohoo, Numbskull & The Spookville Team


---

ENTERTAINMENT
Embark upon a monster-friendly adventure of happy haunting through Spookville: Halloween Theme Park. Immerse yourself into a "No Scare" World of Halloween as you explore iconic Halloween themed areas filled with Instagram-friendly, interactive installations screaming for selfies (we call Spookies™). Guests of Spookville will also get to Meet & Eek!™ with our cast of whacky monster characters. No one leaves without a phone filled with frightfully fun memories to share with your friends & family!


EXPLORE
Numbskull's Cemetery
Boohoo's Happily Haunted House
The Wicked Witch Woods
Count Dingbat's Castle
Dr. Bonker's Absolutely Mad Laboratory
FEATURES
Swim in a pit of skulls
Ride a witch's broomstick
Lay in a vampire's coffin
Cast witch spells on people
And much more creepy fun!

COCKTAILS & MUSIC
Adults looking for some boos can enjoy "The Spookeasy Bar" (Ages 21+) featuring Halloween-themed cocktails and spooktacular live music by our haunted ghost band playing Halloween song classics such as "Monster Mash", "The Addams Family", "Thriller", etc.

FOOD
For Kids and adults with a monster appetite, Spookville also offers ghoulishly good eats at our "Spookeasy Grill".
---
Is it scary?
No. The whole inspiration behind Spookville was to create a "No Scare" Halloween attraction for both adult scaredy-cats and young children to be able to enjoy!
Is Spookville just for kids?
Absolutely not! We designed Spookville to be entertaining and engaging for Halloween enthusiasts of all ages! It just helps to be a "kid at heart" to have the most fun!


---

Limited Edition Spookville T-Shirt
$14.99 (Regular Price $19.99)
Available for sale when selecting your ticket!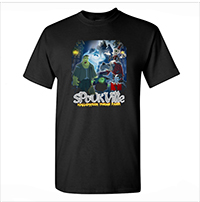 Click to Enlarge Image
Secure your very own limited edition Spookville T-Shirt with our whacky gang of friendly monsters! T-Shirt Color: Black; Youth & Adult Sizes! Purchase now while supplies last!


---

Spookville Website:
For more event information, please visit www.spookville.com
Follow Us for Updates!
Facebook: https://www.facebook.com/spookvillesf
Instagram: http://instagram.com/spookvillesf