Sarah Sherman (aka Sarah Squirm) at Verdi Club SF
Thu. Sep 15, 2022 at 7:30pm PDT
Price: $27.00
21 and Over
Event Stats
Price: $27.00
21 and Over
Event Description
Talent Moat presents SARAH SHERMAN aka SARAH SQUIRM (SNL) and special guests NAKED ROOMMATE at the historic Verdi Club!
Sarah Sherman aka Sarah Squirm is currently a featured player on Saturday Night Live. Outside of the show, she is known for her unconventional and popular live show, Helltrap Nightmare. She was chosen to be a New Face at the 2021 Montreal Just For Laughs Comedy Festival. Sarah opened for Eric Andre's national tour and wrote on THE ERIC ANDRE SHOW. She staffed on the Adult Swim series THREE BUSY DEBRAS and Netflix's MAGIC FOR HUMANS. She was previously named one of Vulture's Comics to Watch for 2018 and one of TIME OUT Magazine's Five Comics to Watch for 2017. Sarah recently wrote, directed, and starred in SARAH VACCINE [means.tv] , a short that Paper Mag described as a "maniacal, gross-out and overwhelming response to [our] lockdown hell".
SARAH SQUIRM'S 'FLAYAWAY' INFOMERCIAL
JUST FOR LAUGHS 2021 PERFORMANCE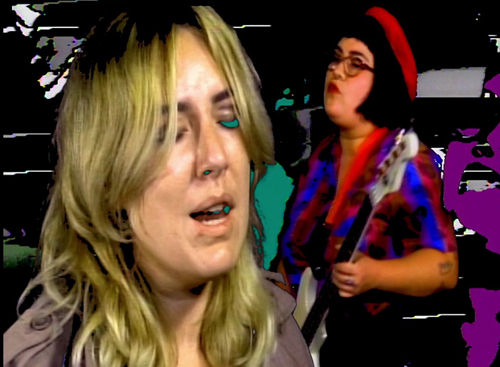 NAKED ROOMMATE proffers leftfield hijinks via punk execution, answering all the questions posed by questionable post-punk revivalism with sour lemon sneering and cherry-sweet smiles. It's a fever dream, really... A flailing, sparking wire of hyper-compressed rhythms (breathing and synthetic), devolved guitar work and minced electronic compost. The resultant congealed groove is suitable for club situations and/or living space pulsations alike. Either way, the landlord is pissed.
Sarah Sherman (aka Sarah Squirm)
Sarah Sherman aka Sarah Squirm is currently a featured player on Saturday Night Live. Outside of the show, she is known for her unconventional and popular live show, Helltrap Nightmare. She was chosen to be a New Face at the 2021 Montreal Just For Laughs Comedy Festival. Sarah opened for Eric Andre's national tour and wrote on THE ERIC ANDRE SHOW. She staffed on the Adult Swim series THREE BUSY DEBRAS and Netflix's MAGIC FOR HUMANS. She was previously named one of Vulture's Comics to Watch for 2018 and one of TIME OUT Magazine's Five Comics to Watch for 2017. Sarah recently wrote, directed, and starred in SARAH VACCINE [means.tv] , a short that Paper Mag described as a "maniacal, gross-out and overwhelming response to [our] lockdown hell".n nMail-In Testing Service (SNL)nhttps://www.youtube.com/watch?v=v1fY2xtyXsY n nJFL New Faces Performance (2021)nhttps://www.youtube.com/watch?v=8lYU_YczAc8 n nSARAH VACCINE:nhttps://means.tv/programs/sarahvaccine n nFLAYAWAY:nhttp://www.adultswim.com/videos/infomercials/flayaway n nWEBSITE:nhttp://sarahsquirm.tumblr.com/nn