CMC Music Productions Presents Brian Buchanan Trio
Fri. Sep 13, 2019 at 8:00pm MDT
Price: 25.00 CAD $
All Ages
Event Stats
Price: 25.00 CAD $
All Ages
Event Description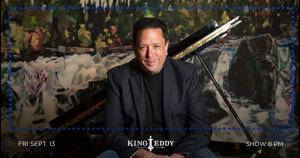 Canadian jazz pianist Brian Buchanan returns to the city to perform a rare Calgary concert. A celebrated pianist and composer, Brian brings his distinct sound to the stage with two of his long time colleagues, fellow Alberta music greats, bassist John Taylor and drummer Sandro Dominelli.

General admission.
$25 advanced tickets, $35 at the door.
Show starts at 8 pm.

About Brian Buchanan:
Well known to Canadian jazz fans for his distinctive and innovative sound, Brian's tasteful repertoire blends his own compositions with those from the pens of the masters. His style combines complex harmonies and thematic improvisations over a wide range of melodic based music.

Releasing two albums to great acclaim, Avenues and Soulstice, the projects see Brian perform with renowned musicians including Phil Dwyer, Bob Tildesley, Don Thompson, Dave Young, Jim Vivian, Billy Drummond and others.

In recent years Brian has been presented in concert as a solo pianist and leading his own ensembles, including a featured concert at Edmonton's Yardbird Suite as part of the Best of Alberta jazz series, concerts in Vancouver and Vancouver Island, and as part of 2018 International Jazz Week in Calgary. Joining him for the various concerts are Canadian notables such as Mike Rud, Ken Lister, Bill Coon and more.

Notable career accomplishments include a feature for Project Discovery, hosting BET on Jazz Cable Network shows from Western Canadian jazz festivals, an Alberta Recording Industry nomination for Jazz Album of the Year in 1994, and a position as Music Director with Disney Cruise Lines. He's been featured on live and studio recordings for CBC Radio programs Jazz Beat, Tonic and Alberta Music.

About Sandro Dominelli:
Sandro Dominelli is one of Canada's most creative, talented and tasteful drummers. Through his continuing success as a much sought-after composer, bandleader, and producer he has proven to be an established luminary in the Canadian music scene. He has collaborated with such icons as Joe Lovano, Sheila Jordan, Ernie Watts, Tommy Banks and more; he's earned a Juno Nomination and Western Canadian Music Award. Sandro's achievements continue to make him one of Canada's most endearing musicians.

About John Taylor:

John Taylor has been the assistant principal Bassist in the Edmonton Symphony Orchestra since 1983, prior to which he was the Principal Bassist with the Thunder Bay Symphony. He has also performed with The Toronto Symphony, Canadian Opera Company, the Hamilton Philharmonic, Orchestra London Canada and New Music in Toronto.

As a jazz bassist, John has performed with Sheila Jordan, Jay Clayton, Mark Murphy, Nancy King, Fraser McPherson, Bobby Shew, Mick Goodrick, Norma Winstone, John Stowell, Steve Slagle, Tommy Banks and many others. John has toured with Billy Reed (drummer with Martha Reeves and the Vandellas), Slavoe Tango, Kent Sangster and toured with the Vivienne Cardinal Quintet featuring P. J. Perry. He has played electric bass on ESO Pops Concerts with many guest artists including Bill Conti, Marvin Hamlisch, Toni Tenille, Maureen McGovern, Judy Collins, Helen Reddy, Robert Guillaume, David Amram , Ashley McIsaac and Natalie McMaster. His band, Nusteps, released a CD in 2006.

John has studied at the University of Toronto in the Faculty of Music, the Orchestral Training Program at the Royal Conservatory of Music, the National Youth Orchestra of Canada, the Banff Centre School of Music, private studies with Tom Monahan (Toronto Symphony), and Thorvald Fredin of Stockholm Opera.

Show Disclaimer:
This is the earlier of multiple shows we're presenting on this date. The next show is scheduled to begin at 11 pm. When this show is over, we ask that you please make room for fellow ticket-holding live music lovers. Tickets for the second show can be purchased online or at the door (subject to availability).

Seating Disclaimer:
To accommodate as many live music fans as possible, we offer both seats and standing room at our shows. Seats are first come, first serve. We recommend arriving early if you'd like to be seated during the performance.

Sound production equipment for the King Eddy is provided by PK Sound and Yamaha.