reasons to be pretty
Multiple Dates & Times
Get Tickets
Details
Comments
Event Description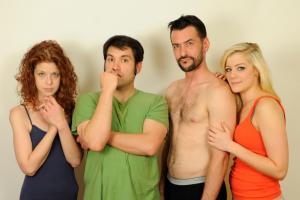 No Name Players
presents

reasons to be pretty
by Neil LaBute
Directed by Marci Woodruff
August 3rd – 18th
8:00pm
No Late Seating

PITT Studio Theater
Cathedral of Learning
Basement

Directions: If you enter the main level of the Cathedral of Learning, take the "E" or "G" elevator to the "B" level. Follow signs to theater entrance.

A love story about the impossibility of love, reasons to be pretty follows Greg and Steph, a couple whose relationship transforms dramatically because of one off-handed remark shared between friends. This Tony Award nominated play is the third installment in a trilogy of plays by Neil LaBute (The Shape of Things, Fat Pig) chronicling our modern obsession with physical beauty. reasons to be pretty demonstrates how words can be used as instruments of power and that they can, in fact, hurt.

reasons to be pretty will be directed by acclaimed Pittsburgh stage veteran and recent Pittsburgh New Works Festival Lifetime Achievement Award winner Marci Woodruff. Featuring Karen Baum*, Clara H. Childress, Don DiGiulio, and Jody O'Donnell.

*Member of Actors' Equity Association, the Union of
Professional Actors and Stage Managers, appearing under a special agreement with Actors' Equity Association.

412.207.7111 for more information/questions.