The Language of Thieves: Martin Puchner with Sarah Weinman
Wed. Oct 14, 2020 8:00pm - 9:00pm EDT
Event Description
The award-winning author decodes the history of a secret language and of his family's own Nazi past.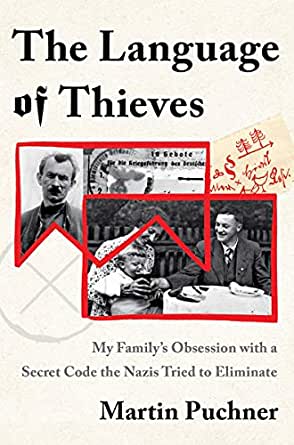 Growing up in Germany, Martin Puchner learned from his uncle and father a centuries-old, secret, coded language known as Rotwelsch. This "language of thieves" had been used by generations of vagabonds, travelers, Jews, and other so-called outcasts as a means of connection and survival. It blended words from Yiddish, Hebrew, German, Romani, Czech, and other European languages and was rich in expressions for police, jail, or experiencing trouble—such as "being in a pickle." As an adult, Puchner discovered his grandfather had also been obsessed with Rotwelsch, but for a very different reason: he was a Nazi who had tried to stamp the language out, as those in positions of power had long done, none more vehemently than the Nazis. In his new book, The Language of Thieves, Puchner interweaves family memoir with an exploration into the mysteries of language and translation, and how embedded in this secret language is a spirit of resilience and tolerance, essential for our present moment.
Martin Puchner researched and wrote The Language of Thieves during his 2017-2018 Fellowship at the Library's Dorothy and Lewis B. Cullman Center for Scholars and Writers, where he was the John and Constance Birkelund Fellow. He discusses his book with author Sarah Weinman.
Produced in partnership with The Dorothy and Lewis B. Cullman Center for Scholars and Writers.
LIVE from NYPL is made possible by the support of Library patrons and friends, as well as by the continuing generosity of Celeste Bartos, Mahnaz Ispahani Bartos and Adam Bartos, and the Margaret and Herman Sokol Public Education Endowment Fund.
ABOUT THE SPEAKERS

Martin Puchner is the Byron and Anita Wien Professor of English and Comparative Literature at Harvard University. His prize-winning books cover subjects from philosophy to the arts, and his six-volume Norton Anthology of World Literature has brought four thousand years of literature to students across the globe. His best-selling book The Written World: The Power of Stories to Shape People, History, Civilization (Random House), has been translated into eighteen languages. He is a member of the European Academy and has received numerous awards, including a Guggenheim Fellowship, the Berlin Prize, and the Massachusetts Book Award.
Sarah Weinman is the author of The Real Lolita and the editor of several anthologies, most recently Unspeakable Acts: True Tales of Crime, Murder, Deceit, and Obsession. A National Magazine Award finalist for Reporting, Weinman has written for the New York Times, Vanity Fair, the Washington Post, and New York, among many other publications. She lives in Manhattan.


GET THE BOOKS
If you have a NYPL library card—or live in New York state and want to apply for one now—you can borrow The Language Thieves and Unspeakable Acts for free with our e-reader app SimplyE, available for iOS and Android devices. The titles are also available in accessible formats for community members who do not use standard print. Find out more at: nypl.org/talkingbooks.
Readers everywhere who wish to purchase copies of The Language Thieves and Unspeakable Acts can do so at The New York Public Library Shop. Proceeds benefit the New York Public Library. Plus, receive a 125th Anniversary tote bag with your purchase!

This program will be streamed live on Zoom and simulcast to YouTube. You must register with your email address in order to receive the link to participate. Please check your email shortly before the discussion to receive the link. Captions for this event will be provided. If you miss registration, join us on YouTube to watch at 8PM EDT on Thursday, October 14th.

---
Please send all press inquiries (photo, video, interviews, audio-recording, etc.) at least 24-hours before the day of the program to Sara Beth Joren at sarabethjoren@nypl.org.
For all other questions and inquiries, please contact publicprograms@nypl.org.
---
Sign up for NYPL Connect to get updates from NYPL and information about our digital resources and services available during our temporary closure.
---
PUBLIC NOTICE AND DISCLAIMER
This Program uses a third-party website link. By clicking on the third-party website link, you will leave NYPL's website and enter a website not operated by NYPL. We encourage you to review the privacy policies of every third-party website or service that you visit or use, including those third parties with whom you interact with through our Library services. For more information about these third-party links, please see the section of NYPL's Privacy Policy describing "Third-Party Library Services Providers" at https://www.nypl.org/help/about-nypl/legal-notices/privacy-policy.
During this Program, you will be using third-party platforms such as Zoom and YouTube, for the purpose of communication. This service may collect some personally identifying information about you, such as name, username, email address, & password. This service will treat the information it collects about you pursuant to its own privacy policy, which can be found here: Google Privacy Policy, Zoom Privacy Policy, YouTube Privacy Policy.

---
Sarah Weinman © Anna Ty Bergman