Prancer, Hanorah, Supercrescent
Sat. Oct 23, 2021 at 7:30pm ADT
3 days away
Price: 11.50 CAD $
19 and Over
Event Stats
3 days away
Price: 11.50 CAD $
19 and Over
Event Description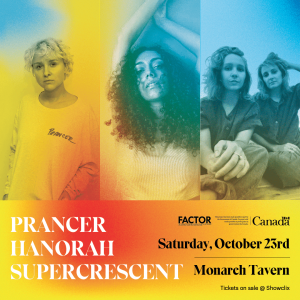 An evening of extraordinary Canadian front persons: Toronto's Prancer, Montreal's Hanorah and introducing Supercrescent featuring Erin Bolton (Arlo Sun) and Sara May (Falcon Jane).
Doors 7:30 pm...show starts 8:15 pm
This project has been made possible in part by FACTOR and The Government of Canada. Ce project a ete rendu en partie grace au FACTOR et le gouvernement du Canada.