Philippe Sands On-Demand Event Recording
Sun. Feb 7, 2021 at 2:00pm EST
Event Description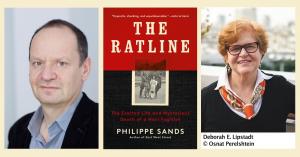 THIS IS THE RECORDING OF THE ORIGINAL EVENT (recorded on Sunday, February 7, 2021).
After purchasing, you will receive the link in your confirmation email from ShowClix. Can't find it? Please look in your SPAM/JUNK folder. 
Questions? Please email book.festival@atlantajcc.org 
Philippe Sands, The Ratline: The Exalted Life and Mysterious Death of a Nazi Fugitive
In conversation with Deborah E. Lipstadt, Dorot Professor of Modern Jewish History and Holocaust Studies, Emory University, and New York Times Bestselling Author
Zoom Author Talk and Q & A
"Hypnotic, shocking, and unputdownable." –John le Carré

From the author of the internationally acclaimed, award-winning East West Street: A tale of Nazi lives, mass murder, love, cold war espionage, a mysterious death in the Vatican–and "the Ratline," the Nazi escape route to Peron's Argentina.

Baron Otto von Wächter, Austrian lawyer, husband, father, high Nazi official, senior SS officer, former governor of Galicia during the war, creator and overseer of the Krakow ghetto, indicted after as a war criminal for the mass murder of more than 100,000 Poles, hunted by the Soviets, the Americans, the British, by Simon Wiesenthal, on the run for three years, from 1945 to 1948...

Philippe Sands pieces together, in riveting detail, Wächter's extraordinary, shocking story. Given full access to the Wächter family archives–journals, diaries, tapes, and more–and with the assistance of the Wächters' son Horst, who believes his father to have been a "good man," Sands writes of Wächter's rise through the Nazi high command, his "blissful" marriage and family life as their world was brought to ruin, and his four-year flight to escape justice–to the Tirol, to Rome, and the Vatican; given a new identity, on his way to a new life via "the Ratline" to Perón's Argentina, the escape route taken by Eichmann, Mengele, and thousands of other Nazis. Wächter's escape was cut short by his mysterious, shocking death in Rome, in the midst of the burgeoning Cold War (was he being recruited in postwar Italy by the Americans and the U.S. Army Counter Intelligence Corps or by the Soviet NKVD or by both; or was he poisoned by one side or the other, as his son believes–or by both?) . . .

An extraordinary discovery, told up-close through access to a trove of family correspondence between Wächter and his wife–part historical detective story, part love story, part family memoir, part Cold War espionage thriller.
ABOUT PHILIPPE SANDS
PHILIPPE SANDS is an international lawyer and, since 2018, the president of English PEN. He is a frequent commentator on CNN and the BBC World Service. In 2003 he was appointed a Queen's Counsel. He lives in London.
Presented in partnership with the National JCC Literary Consortium
All books include shipping to the US and Canada only. Books will be shipped after the event and can take 7 - 10 business days to receive due to Covid-related USPS delays!
EVENT RECORDINGS:
Event recording for ticket holders will be available 24 hours after the event for a limited time; please email bookfestival@atlantajcc.org if you would like a copy.
On-demand recording of the event may be purchased on this ticketing page after the program.
Have a comcast email? Please refer to this guide:
https://www.xfinity.com/support/articles/spam-filters-and-email-blocking-new-experience