NYCC 2022 - An Evening With Steve Burns
Sat. Oct 8, 2022
Event Description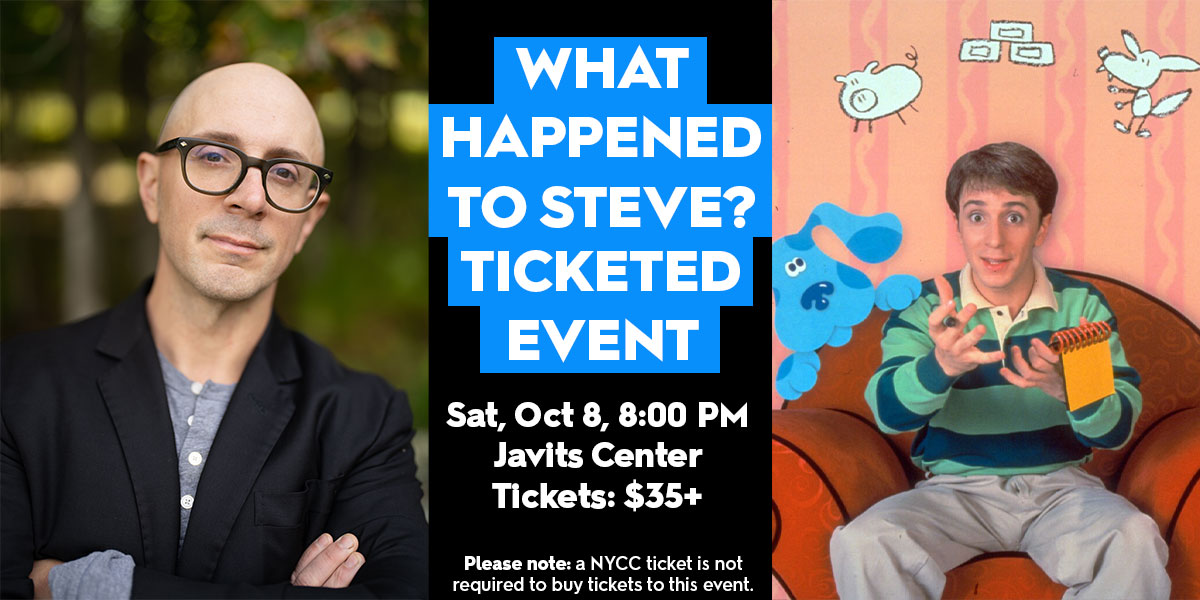 Join us on Saturday, October 8 at 8:00 PM EST in room 405 at the Javits for "An Evening With Steve Burns" featuring Steve Burns from Blue's Clues! After years of being the face of the much-loved Blue's Clues series, Steve said his goodbyes to Blue in 2001 and went off to college. In this speech, Steve shares what happened to him after he left the television show. With his heartfelt and open approach that brought him into the spotlight, he candidly talks about the successes and, more importantly, the failures he has experienced along the way. There may be laughter, and there may even be tears, but this event is sure to be insightful, authentic, and uplifting. Tickets are $35+
A New York Comic Con ticket is not required to attend this separately ticketed event. If you do not have a Saturday ticket to New York Comic Con, you will not have access to enter the building until 7:00 PM EST. If you would like to attend NYCC during the day to meet Steve Burns in Photo Ops and Autographs, you can create a Fan Ver account to buy tickets here: NYCC2022.com/BuyTickets
---
Steve Burns is an American actor and television host best known as the original host of the long-running children's preschool television program Blue's Clues from 1996 until 2002, for which he was nominated for a Daytime Emmy in 2001. The series was rebooted as Blue's Clues and You, with Burns serving as frequent writer, director, and producer.  As a musician, he collaborates with Grammy award winners The Flaming Lips, with whom he released critically acclaimed album Songs For Dustmites and Foreverywhere, an album for children, in 2016.  Burns wrote and performs the theme song for Young Sheldon on CBS. He is a frequent host and storyteller for NPR's The Moth.
In 2021, Burns appeared in videos for the 25-year anniversary of Blue's Clues, including a widely watched Twitter video in which he – in character as the host of the show – explained reassuringly that he had never forgotten the viewers after leaving to go to college, and marveling at how much each of them had experienced since then. His return was unexpectedly profound and "struck a chord among many viewers, raising feelings of nostalgia and childhood comfort, especially juxtaposed with global crises like the coronavirus pandemic and extreme weather linked to climate change." (The New York Times). In less than 24 hours, the video had nearly 30+ million views and today stands at over 100 million views and counting.
As a speaker, Burns refines and re-examines the message of empowerment and exceptionalism he delivered to a generation of children- carrying the thoughtful, care-driven conversation he began in their childhoods into their now-hoods as they struggle with the demands and realities of adulting.
Reed Exhibitions and our Reed Exhibitions affiliates would like to keep you informed about related events and services. If you do not wish to receive such information, please click here to update your preferences.
                                                               © 2022 Reed Exhibitions
Join the Conversation
Follow the event with #NYCC