No Joy, Cedric Noel
Wed. Nov 24, 2021 at 8:00pm EST
Price: 15.00 CAD $
19 and Over
Get Tickets
Details
Comments
Event Stats
Price: 15.00 CAD $
19 and Over
Event Description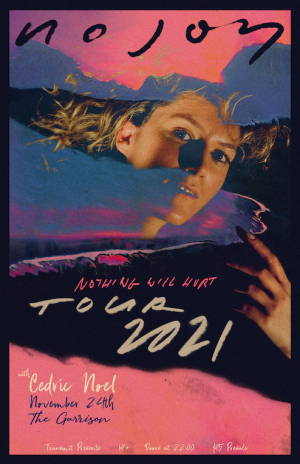 Since first arriving on the scene in 2009 with blistering inversions of shoegaze, Montreal's No Joy has always found formidable ways to reinvent itself. Now solely composed of musician Jasamine White-Gluz, No Joy has evolved over the course of four studio albums and five EPs, defying expectation and genre, and cementing itself as something rare: a band without a category. 

For No Joy's first full length in five years, White-Gluz took what she learned from synthesis, reincorporated guitars, and produced an album that is not a departure from No Joy's early shoegaze, but a stylistically omnivorous expansion that ekes into trip hop, trance and nu-metal. 2020's Motherhood is the culmination of years composing outside of her comfort zone, and a return to DIY recording with a leveled-up expertise in production. Touring with genre-divergent artists has honed the band's comfortably multifarious sound; No Joy picked up post-hardcore fans on the road with Quicksand, and ambient techno fans on gigs with Baths. "As long as people are open minded about music, they can hear different things," explains White-Gluz, "Maybe because there are a lot of layers."

Once again pulling sonic inspirations from every corner the band had mastered before, Motherhood is a staggering and melancholic tapestry of fuzzy, 90s/early 2000s nu metal and trip hop, faithful shoegaze, and bold lyricism-- with blunt meditations on femininity, fertility and mortality--all while maintaining a sense of humor. 

It's no surprise, then, that with 2021's new No Joy EP, Can My Daughter See Me From Heaven, sees White-Gluz finding new things to mine and explore from Motherhood. Comprising the tracklisting of Can My Daughter See Me From Heaven are four Motherhood tracks, all of which were reworked during the COVID-19 pandemic. Mixed by frequent collaborator Jorge Elbrecht, mastered by Heba Kadry, and co-produced by White-Gluz and Tara McLeod (who also lends her guitar work to the recordings), the new takes veer into slower, dreamier territory...but calling it "softer" would be a disservice. To help re-conceive the tracks under a new light, White-Gluz enlisted a fresh set of collaborators: there's booming percussion from Sarah Thawson, a cutting cello from Ouri, delicate harp work by Nailah Hunter, and French horn from Brandi Sidoryk -- who also provides backup and operatic vocals.They settle into a strange and confident harmony, highlighting the urgency of Motherhood's themes, as White-Gluz's hazy, ethereal vocals soar over the din. 

Aside from these reimaginings, there's another delightful surprise: a dusky cover of Deftones' immortal classic "Teenager" rounds out the five song EP. It's no wonder that a song by Deftones, another band willing to bulldoze through sonic boundaries, would find a home here. There's a kinship between these artists that makes this cover even more necessary. 

With Can My Daughter See Me From Heaven, No Joy continues to conjure an effortless mix of sound, achieving new heights, while playing with the more traditional confines of the shoegaze genre

with Cedric Noel

IMPORTANT INFORMATION REGARDING PROOF OF VACCINE

The Ontario Government has mandated a Proof of Vaccine policy that takes effect on September 22, 2021. Ontario Government Proof of Vaccine receipt (digital or paper) and corresponding government I.D. will be required to enter and attend an indoor concert/event.

Information below how to access and download your Proof of Vaccine from the Ontario Government.

Once the Proof of Vaccine APP is available (October 22) we will be switching to that system that features a digital QR code.

https://covid19.ontariohealth.ca/

In advance of September 22, all Ontarians can print or download their vaccination receipt from the provincial booking portal. The Ministry is working on additional supports and services to assist Ontario residents who need help obtaining proof of vaccination, including requesting a copy be sent by mail. Those who need support obtaining a copy of their vaccination receipt including those who do not have access to a computer or printer can call the Provincial Vaccine Contact Centre at 1-833-943-3900.

Ontario is developing an enhanced vaccine certificate with a unique QR code to make it safer, more secure and convenient to show that you have been vaccinated, when required to do so. The enhanced vaccine certificate and verification app will be available by October 22, 2021. Ontario's proof of vaccination guidance will be updated to reflect the new processes.