New Years Eve Sock Hop
Thu. Dec 31, 2015 at 7:00pm EST
Price: $65.00
18 and Over
Get Tickets
Details
Comments
Event Stats
Price: $65.00
18 and Over
Event Description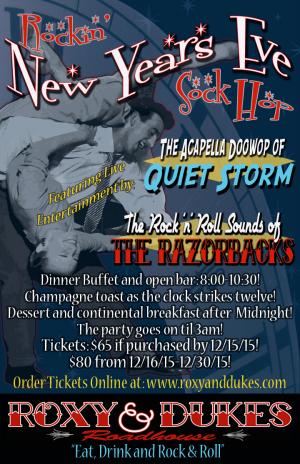 ROCKIN' NEW YEARS EVE SOCK HOP!
Dinner Buffet and open bar: 8:00-10:30! Champagne toast as the clock strikes twelve! Dessert and continental breakfast after Midnight! The party goes on til 3am! Tickets: $65 if purchased by 12/15/15! $80 from 12/16/15-12/30/15!
THE RAZORBACKS may possibly be one of the U.S.A's best kept secrets. We think you will agree once you have seen them perform. They have 4 full length CD's under their belts, and have been included on countless Rock-A-Billy compilations. The border on country, surf, and swing with a bit of blues. So where to we class them? Who do they sound like? We certainly know where their roots came from, but that's all. When the boy's were asked by "Now Dig This" Magazine, what kind of music they would like people to classify them in, they said "RAZORBACKS" music. I think that is best, because after you see and hear them you will know nothing else can possibly describe it! When these three talented guys hit the stage and turn loose they will give you something you won't forget. They gain fans around the world with every show and leave them bopping in the aisles and begging for more!
Quiet Storm is a vocal harmony group specializing in Classic and Contemporary Rhythm and Blues and Soul. The group is able to sing and perform acapella as well as with music. Quiet Storm is a Philadelphia based group that began in the spring of 2007. Started by Kamau "Smitty" Akiba who has sang and recorded with The Informers on J-Rude and Blackjack labels in the sixties and again from 2005 to 2006, Quiet Storm's intention is to bring back music that speaks about love situations from the heart. They wants to sing about those messages of love that speak of loving a woman as a whole person instead of a collection of body parts. Initially, the group started rehearsing in members homes, on porches, subways, and shopping malls, until settling down at Columbia Rehearsal Studios. Over the first six to nine months, the membership fluctuated with personnel changes for a variety of reasons. However, in the winter of 2007 the perfect mix of members emerged! It is now a perfect blend of brothers who equally share the dedication, belief, spirit, drive and cooperation fundamental to making a group as "ONE".
Join the Conversation
Follow the event with #roxyanddukesroadhouse