The Slaps, Friko, Natural Rat, Better Off Animals
Fri. Dec 2, 2022 at 8:00pm EST
Price: $10.00
18 and Over
Get Tickets
Details
Comments
Event Stats
Price: $10.00
18 and Over
Event Description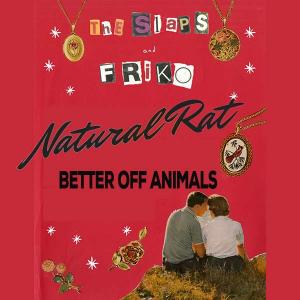 Natural Rat celebrates their newest EP release Snake Eyes with a show at 123 Friday December 2nd. To help celebrate they roped in a sweet tour package featuring two of Chicago's buzziest bands The Slaps + Friko! Plus local support from Better Off Animals, for an epic celebration party. Tickets are $10 advance and $13 dos. 18&up to enter
Natural Rat- West Virginia doom pop with a heavy Indiana Jones influence with Frontman, Kelsie Cannon.
The Slaps- Chicago, IL
At its core, Tomato Tree by The Slaps is an exercise in patience that seamlessly showcases the virtues of experimentation. Composed of guitarist/vocalist Rand Kelly, bassist/vocalist Ramsey Bell, and percussionist/vocalist Josh Resing, the band's latest collection of songs is an achievement – a document of deepening friendship and their collective and personal advancements in artistic maturity. 
Though the band formed out of a chance meeting at a party in 2016 during their first year of college at DePaul University, The Slaps are bound together by a spirit of pastoral music making – the notion that collaboratively using the available resources can produce stunning results. 
"It's been about trust – it starts with each other. We trust each other so much. We trust each other to live in different places and keep this thing going," says Resing, referencing Bell and Kelly's recent move from Chicago back to their homes in Lexington, Kentucky. "You can't do that with just anybody."
Despite Tomato Tree sounding effortless, the record was pieced together meticulously from June 2020 to April 2021 at Pallet Sound in Chicago with assistance from engineer Michael MacDonald. Certain tracks (like the bright-but-distorted instrumental "Fire on Fire") were finessed during marathon rehearsal sessions whereby a song was played for nearly five hours straight before committing the tracks to record. 
From their inception, many of the songs on Tomato Tree (such as "Around," "Powder," "It's Dense," and "Iron Bone") took between two and four years to produce, undergoing significant changes while being rehearsed and performed in clubs around Chicago where the band developed their following. "We've never put any pressure at all on ourselves to finish a song," says Bell of the process behind Tomato Tree. 
Through several years of writing and arranging, the band stresses that being patient allowed the songs to manifest in ways they wouldn't if the process were rushed. "A lot of what contributed to timing and what it took to complete the album was unintentional – it was a matter of individual and personal circumstance," says Kelly as he references the pandemic, a move across the country to Washington, and other factors that contributed to the length of time taken to produce the record. This reliance on grappling with context allowed the band to hone in on their ability to execute the songs in concert, which has proven to bring new fans into the fold whenever the band tours. 
This emphasis on performance – on the unmediated expression of music from artist to audience in a live setting – has been, and always will be, a central component of The Slaps' ethos. It's perhaps no surprise that the lyrics for album's opener, "Anything For Now," meditates on mosh pits and music venues. "The trust component is in the live show, too. We're comfortable going into the unknown on stage with one another," says Resing. "It's exciting to us – not scary," he adds. 
While certainly a more fully-realized record than their previous affairs, Tomato Tree does contain sequels of sorts to previously-released material while also pointing toward new directions that The Slaps promise to explore later. "Around" is the completion of a trilogy, a bookend to the previously released songs "Will Have Been Being Around" from 2017's Susan's Room and "Being Around" from 2019's A. Those songs comprise a three-part reflection on love, an arc that, according to Resing, moves from "specific, personal" moments of heartbreak to "something more universal and general" found on "Around."
Tomato Tree's short-but-sprawling closing track "Somber Slumber" is, to put it in the words of the band, "a work in progress" – at least in the sense that there's already been a Part II for the song written that will soon be recorded for Tomato Tree's follow-up. Other offerings, like the synth-laden "Hell No" and the instrumental "Autotelic" found midway through the album, index the band's ability to creatively bring programmed sounds into the fold, blending Bell and Resing's interest in electronic music with The Slaps' typical organic soundscapes.
This spirit of collaboration and refinement found throughout Tomato Tree extends beyond the three members of the band. The first voice on the record is that of Lunar Vacation's Maggie Geeslin (who Resing calls "a light in a dark world") and "Anything For Now" also includes "audio donations" from the band's fans and family gathered during the early months of the pandemic. Originally intended to soften the pangs of loneliness created by social distancing, these recordings became an outlet for The Slaps to fuse their interest in sampling with their latest project.
"With the live set, we're always trying to break down this barrier of the audience thinking that we're performing for them," says Bell of the band's irreverence toward artists being placed on a pedestal above their audiences. "We want to bring them into the album and into our performances as much as possible."
Although The Slaps have a discography that predates Tomato Tree, the band insists that their latest offering is their first proper full-length album. "This is the most time we've spent on produced music," says Kelly of the completed product that is the record. "This is what we wanted," adds Resing. "I feel like we did exactly what we set out to do."
FRIKO - Chicago, IL
Fans know Friko (Bailey Minzenberger, Luke Stamos, and frontman Niko Kapetan) as vital rising stars in the Chicago scene. The music, which freelancer Britt Julious described as "perfect slices of indie-pop" in the Chicago Tribune last January, is complex, layered, and dynamic. Over the band's time together, it has become clear they are comfortable embracing multiple musical extremes at once. Take a listen to the explosive and hypnotic beat of "In_Out" off their self managed 2022 EP release, Whenever Forever, and juxtapose it against the serene, strings soaked tracks that follow, "Half as Far" and "Can I See U Again." It becomes even more pronounced in live performance, where a frenzied floor, grinding with wailing guitars and animation, in the very next minutes finds itself collectively holding its breath silently as the band eases them into a spell. Lyrically, Kapetan explores the possibility and risks of a life given over to music, interrogating what a life well-lived means to him. The duality rings out in the compositions, evoking rock and folk icons such as Leonard Cohen and Nick Drake. As Friko plays out sweeping melodies, held up by thrashing guitar and punchy beats, it feels as if Kapetan sings to you. Crooning about stories you know, memories you had but have somehow forgotten.
Join the Conversation
Follow the event with #123pleasant