Mimi Lemay On-Demand Event Recording
Fri. Nov 20, 2020 at 2:00pm EST
Event Description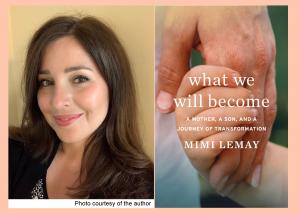 THIS IS THE RECORDING OF THE ORIGINAL EVENT (recorded on Fri., November 20, 2020).
After purchasing, you will receive the link in your confirmation email from ShowClix. Can't find it? Please look in your SPAM/JUNK folder. 
Transgender Day of Remembrance
Mimi Lemay, What We Will Become: A Mother, a Son, and a Journey of Transformation
In Conversation with Holly Firfer, CNN Journalist
Mimi Lemay recounts her memoir of her transgender child's odyssey, and her journey outside the boundaries of the faith and culture that shaped her.

From the age of two-and-a-half, Jacob, born "Em," adamantly told his family he was a boy. While his mother Mimi struggled to understand and come to terms with the fact that her child may be transgender, she experienced a sense of déjà vu—the journey to uncover the source of her child's inner turmoil unearthed ghosts from Mimi's past and her own struggle to live an authentic life.    
 
Mimi was raised in an ultra-Orthodox Jewish family, every aspect of her life dictated by ancient rules and her role as a woman largely preordained from cradle to grave. As a young woman, Mimi wrestled with the demands of her faith and eventually made the painful decision to leave her religious community and the strict gender roles it upheld.
 
Having risen from the ashes of her former life, Mimi was prepared to help her son forge a new one — at a time when there was little consensus on how best to help young transgender children. What We Will Become is a powerful testament to how painful events from the past can be redeemed to give us hope for the future.
 
MIMI LEMAY is an international advocate for transgender youth and the author of the viral essay "A Letter to My Son Jacob on His 5th Birthday." Lemay and her family meet regularly with legislators, business leaders, educators, and clergy to share their vision of a more equitable world. She is a member of the Parents for Transgender Equality National Council at Human Rights Campaign and holds a master's in law and diplomacy from the Fletcher School at Tufts University. She was recently named one of the Commonwealth Heroines of 2020 by the Massachusetts Commission on the Status of Women.
Presented in partnership with the National JCC Literary Consortium
All books include shipping to the US and Canada only. Books will be shipped after the event.
EVENT RECORDINGS:
Event recording for ticket holders will be available 24 hours after the event for a limited time; please email bookfestival@atlantajcc.org if you would like a copy.
On-demand recording of the event may be purchased on this ticketing page after the program.