Marc Broussard
Fri. Dec 14, 2018 at 8:00pm EST
Event Description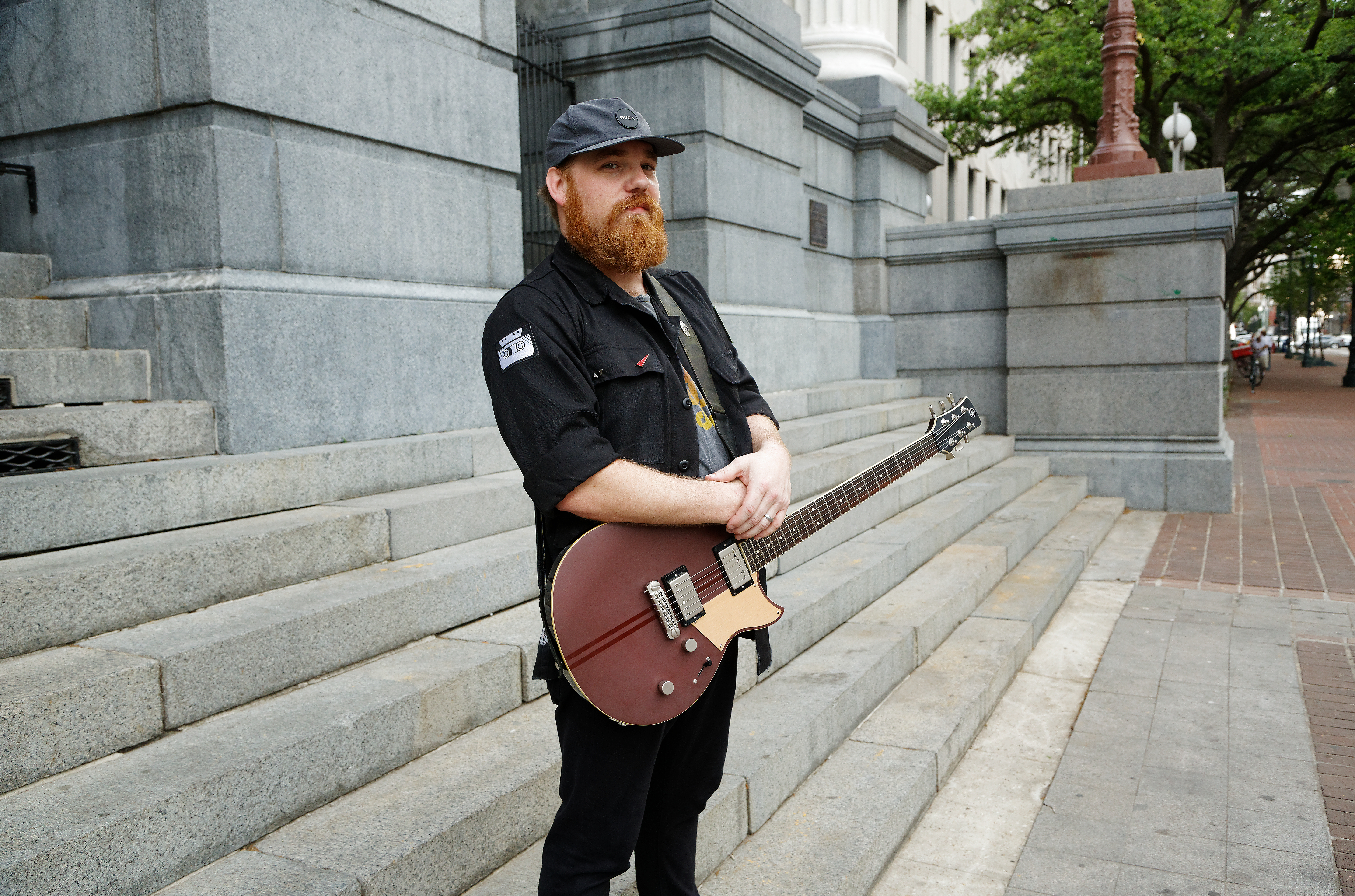 $37 Advance | $42 Day of Show
Doors open at 7pm. GA-20 opens the show at 8pm!
Marc Broussard is an artist with a unique gift of channeling the spirits of classic R&B, rock and soul into contemporary terms. His father, Louisiana Hall of Fame guitarist of "The Boogie Kings", nurtured Marc's musical gifts at an early age, and the vibrant Lafayette, Louisiana music scene gave Marc the opportunity to practice his craft consistently from childhood through early adulthood. He still lives in Lousiana today.
After releasing a successful independent EP at age 20, Marc signed a record deal with Island Records. Marc's song "Home" was successful on radio and catapulted him onto the national touring stage. His music has been placed in many TV shows and movies. Marc released multiple albums with major labels over the next 10 years, but has recently returned to his independent roots. Being an independent artist allows Marc to release more content and truly tap into his creative spirit.
Marc released an album for charity on September 30, 2016. It is a soul covers album appropriately titled "Save Our Soul 2". He donated 50% of the profits to City of Refuge. The live performance video of the acoustic version of "Cry to Me" from the album has garnered over 5 million views on YouTube.
Marc's latest original release, "Easy to Love", was released on September 15, 2017. The lead single off the album "Don't Be Afraid to Call Me" was featured on "Rolling Stone Country" and is getting significant airplay on "Sirius XM: The Highway". Marc continues to tour in support of the album to sold out crowds around the US. He sells over 1000 tickets in every major US market and is constantly tapped to play Blues, Soul, and Jazz Festivals.
Marc is currently working on his third charitable covers record. He has partnered with Our Lady of theLake Children's Hospital in Baton Rouge. The album will fittingly be a lullaby album paired with an illustrated children's book.
About the opener, GA-20:
GA-20 was formed by friends Pat Faherty and Matthew Stubbs in Boston, MA in 2018. The project was born out of their mutual love of heavy traditional Blues, R&B, and Rock & Roll of the late 50s and early 60s. Faherty and Stubbs bonded over legendary artists like Lazy Lester, Johnny 'Guitar' Watson, Ike Turner, Earl Hooker, and Howlin' Wolf. Feeling a void in current music, the duo have set out to write, record and perform a modern version of this beloved art form. Live, GA-20 is a trio of 2 guitars, vocals and drums. Raw, passionate and honest performance, both on stage and in the studio, is the only goal.
Stubbs has spent the past 11 years as guitarist for Blues legend Charlie Musselwhite. During that time he has also backed up and toured with such Blues giants as John Hammond, James Cotton, Junior Watson and James Harman. Stubbs also leads his own original instrumental psych-rock band, 'The Antiguas'.
"My fans have been asking me for years," said Marc Broussard, his road-hewn voice unmistakable over the phone. "Every time I come out with a record, they're like, 'It's good but it doesn't do the live show justice.' With Keep Coming Back, I feel that we've finally delivered an album that does exactly that."

Marking his debut release on Atlantic Records, this set of original tunes does more than that. Recorded in just 11 days at Nashville's historic Ocean Way Studios, Keep Coming Back confirms Broussard's position as an artist with a unique gift of channeling the multiple spirits of classic R&B and soul into contemporary terms.

That gift has been a matter of common knowledge since 2002, when Broussard released his debut album, Momentary Setback, which he recorded and released independently at age 20. Nor was it a secret before then, going back to those lucky witnesses who heard him belt "Johnny B. Goode" onstage at age 5 while sitting in with his father's band. Pretty much throughout his life, Broussard has been tapped as a talent to watch.

Even so, Keep Coming Back is the pivotal album of Broussard's rocketing career. Why? Begin, the artist advises, with the musicians; buttressed by Music City session veterans Tim Akers on keys and Gary Burnette on guitar, all the players are members of Broussard's road band, seasoned by the same experiences that have shaped him as an artist and performer.

"My road band and my studio band are one and the same with a few select additions," Broussard says. "I've always recorded with them. No producer I've ever worked with would ever have a problem with them, because they're just that good. Plus, they're not only the best musicians I've ever worked with but also some of my dearest friends in the world."

That connection between all participants is essential on Keep Coming Back - and that, in turn, lends that much more weight behind Broussard's decision to play a greater role working with co-producers Justin Tocket and Calvin Turner. Their partnership began with an agreement that they would take this project beyond anything he'd recorded before, in terms of making it a greater priority to avoid painting a glossy studio picture and instead do what Broussard and his band do every night onstage: tell the truth.

"But what you hear on Keep Coming Back is actually what we played in real time," Broussard continues. "The musicians just play, and you can tell on the tape that we were really having a good time out there. That's another thing: We tracked it all to 2" analog tape because analog is pleasing to the ear, and it gives you a quality that digital recording can't duplicate."

Everyone was so jazzed at these sessions that eight of the album's dozen tracks were first takes. The vibe in the studio was more like a gig than a session. Each part - those meaty B-3 textures on "Hard Knocks," for instance, or that sweet guitar fill at the end of the first verse on "Another Night Alone" - was played in the moment. It had to be, as Broussard explains.

"None of these tunes were rehearsed," he reveals. "I'd demoed most of them, whether with acoustic guitar, a drum loop with keyboards and vocals, or whatever. I'd put it up on iTunes, everybody would listen and write a chart, and then they'd get back to the studio and play. And we had a ball. We had the Nashville String Machine on a couple of cuts and a seven-piece horn section, with [saxophonist] Jeff Coffin as our point man - and they were all coming into the control room even to listen to the tracks they didn't play on!"

The road to this point has been longer than one would expect from an artist as young as Broussard. Yet already he has toured with giants - Maroon 5, Dave Matthews Band, Willie Nelson, O.A.R. and Bonnie Raitt, among others. He has honed his writing chops through collaborations with some of the top song craftsmen in the business. He has won ovations at South-By-Southwest, Bonnaroo, the New Orleans Jazz and Heritage Festival, as well as at countless theaters around the country and on the court during halftime at the 2008 NBA All-Star Game. And he's hooked up with some outstanding duet partners, including two noteworthy guests on Keep Coming Back: LeAnn Rimes, whose country-meets-swamp-blues turn on "When It's Good" returns the compliment Broussard paid as co-writer and vocal partner on "Nothing Wrong," from her 2007 album, and pop/rock sensation Sara Bareilles (who has opened several Broussard tours) on the powerful ballad "Why Should She Wait."

His philanthropic cred is strong too, through donating all proceeds from the sale of his Bootleg to Benefit the Victims of Hurricane Katrina, undertaking a month-long tour of U.S. military installations in September 2007, building homes with Habitat for Humanity and donating his service as spokesperson for Louisiana's United Way of Acadiana - all of which contributed to Hard Rock International's decision in 2007 to present Broussard with its "Love All, Serve All" Award in recognition of his multifaceted generosities.

All of that, the spiritual as well as the musical, contributes to Broussard's emergence as a more complex, seasoned yet emotionally vital artist on Keep Coming Back. And his depth in American musical tradition confirms that as a member of the Atlantic roster, he has come home to a place that can nurture his continued growth for years to come. The process began, in fact, a few years ago, when the late Ahmet Ertegun first heard a young Broussard perform with Solomon Burke during a tribute to Wilson Pickett at a Rock and Roll Hall of Fame dinner - and promptly offered him a spot at the upcoming Montreux Jazz Festival.

"Keep Coming Back is me writing what I want to write at this moment in time," Broussard says. "And I'm very content to be able to do this at Atlantic Records, where the tradition for real music is so strong. I do wish Ahmet was still alive; I know he and I would have gotten along really well. But I also know Atlantic is the right place to be and the right time for Keep Coming Back."
Join the Conversation
Follow the event with #NarrowsCenter
View Everyone
Who's Going?

Eric B

Tom R

Bill W

Keri B

Richard B