Longturn Presents: Tim Green
Sat. Jun 24, 2023 at 9:00pm - Sun. Jun 25, 2023 at 2:00am EDT
$16.99 - $25.99
21 and Over
Event Stats
$16.99 - $25.99
21 and Over
Event Description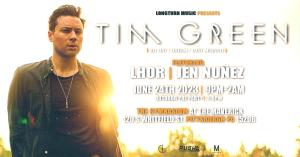 The Gymnasium | East Liberty | Ages 21+
On June 24th we conclude our midsummer night's dream with the second of two shows in one weekend. Our storyteller to close out this chapter is an organic & melodic house master and All Day I Dream fixture, Tim Green! The London producer has done remixes for legends like Underworld, Ben Böhmer, and Eelke Kleijn, released multiple EP's on Lee Burridge's ADID and TRYBESof imprints, and collabed with Sébastien Léger on his label, Lost Miracle. Tim's catalogue of productions is almost endless in his nearly 20 year career and we are ecstatic to have him in Pittsburgh to take us to the end of this epic journey we are going on together. 
Just like Friday's event, dressing up is highly encouraged, but not required. The Maverick will be transformed into a mystical forest, a surreal dreamworld inhabited by mischievous fairies, whose playful games and debaucherous schemes vex us humans. Like Hermia and Lysander leaving Athens to elope in the forest, when you walk through the doors, you leave the real world and enter the realm of mystical absurdity. As you cross that threshold again at the end of the journey you'll ask yourself, "was it all a dream?"
To set the scene for the evening we will be flying in Los Angeles-based organic & melodic house DJ/producer, Lhor. Returning to the stage will be Sentient Productions' own Jen Nuñez!
While the music starts inside at 9pm, we're having an extended day party outside from 3-9pm with DJs, vendors, drinks, food trucks and more surprises. This will be free for everyone who purchased a ticket to the event. More info will be announced as we get closer.
Top tier lighting and production will be supplied once again by Rush Promo, four lasers by Tyler Boyken, and a full Hennessy Sound System rig by Northgate Labs.
Decor, design, and performance direction from the mind of Kayla McCormick.
Discount code for cheaper hotel rooms at the venue located here: https://s.kasa.com/DISCOTHEQUE
Tim Green |  All Day I Dream / Lost Miracle | London
https://soundcloud.com/timgreen 
Tim Green's ability to effortlessly maneuver and experiment across the spectrum of electronic music has never been more evident than it is today. Whether putting out reverberating house & techno that sends dance floors into a frenzy or writing radio friendly alternative pop music under the moniker Invisible Minds, his work is always stamped with fearlessness. 'I think diversity in music is the most important thing. The more colours you have in your palette, the more creative and interesting the results can be' 
Tim's father – a keyboardist, kept the family home flooded with the sounds of Pink Floyd and Joni Mitchell. Learning guitar from the age of 8, Tim played in bands as a teenager, but it was upon hearing Daft Punk's Discovery album that he was firmly bitten by the electronic music bug. 'First time I heard Discovery, I was blown away by what I heard, but at the same time confused. I could recognise a lot of the samples they used, as I knew the originals so well from growing up. But I couldn't understand how they made this type of music. It was all new to me, coming from a strictly live band background. So I made it my mission to find out how and try for myself!' 
Making his first forays into the world of techno with releases on Four:Twenty in 2006, it was his breakout singles 'Revox' and 'Mr Dry' in 2008 that made the scene sit up and take notice. Tim burrowed further into refining his production prowess with releases on Dirtybird, Cocoon, Get Physical and remixing the likes of Friendly Fires, Cassius and Seth Troxler to name a few, before subsequently being crowned Best Breakthrough Producer at the 2010 DJ Mag Awards. The same year he also recorded his debut 'Essential Mix' for BBC Radio 1, which showcased his considerable abilities as a DJ, and was the beginning of a burgeoning DJ career that has seen him traverse the globe on a weekly basis. Institutions such as Fabric London, Panorama Bar Berlin, Amnesia Ibiza, Avant Gardner New York and festivals such as Burning Man Nevada, Dockyard Amsterdam and many more have become a regular fixture in his touring calendar. 
Tim's techno career has had strong link's to Sven Vath's Cocoon imprint. Having released numerous tracks and EP's on the label between 2011 to 16, it only seemed right that Tim would release his debut album with Cocoon in 2018. 'Her Future Ghost' is a landmark body of work and concept that sidestepped convention It's a true culmination of Tim's artistry. 'My concept and direction for 'Her Future Ghost' was to write a film score for a film that doesn't actually exist,' says Tim. 'As an avid film score fan, I wanted to create a body of work that took certain typical soundtrack traits such as different motifs that repeat throughout, like character themes which evolve and mutate as well as a narrative that develops through the music'. 
Shining a light on a more melodic side to his musical personality, in 2018 Tim went back to his song-writing roots with new artist project 'Invisible Minds'. Singles such as Yo Mae Leh & The Cut Girl were released anonymously and received huge support from BBC6 Music and Spotify, resulting in an album deal with legendary UK label Moshi Moshi and the debut album 'Make Up Your Own Stories' being released in October of 2018. Since the success of the album, "Yo Mae Leh" has been featured as the audio to an advertising campaign for Wagamama's restaurants. Featuring exclusively in their advertising across Europe. 
In 2019 he decided to launch a new alias "Apir" to be the outlet for his heavier and more techno orientated music, with release's charted on Adriatique's Siamese label and Cocoon. With his own Tim Green name now being focused on deeper & more house orientated music he has formed strong links with Lee Burridge's legendary label and club night All Day I Dream. Releasing his first track "Sowa" on the label as part of their Winter Sampler, he later debuted 2 full EPs for the imprint, "Vacation to Life" and "Moss", as well as a collection of remixes throughout the year. He also recently released full EPs on other prominent labels within the scene, such as Sebastien Leger's Lost Miracle, Gorge & Izhevski's Shanti Moscow Radio and Lee Burridge's other imprint TRYBESof. 
The coming year looks set to be the busiest of his career to date, not only will he be continuing with the usual hectic touring schedule as Tim Green across key clubs and festivals in Europe, North & South America and Asia. He will also be releasing landmark records as Tim Green that have been in the works for some time...plus a few more surprises in store no doubt.
For more on Tim Green:
https://ra.co/dj/tg
https://www.facebook.com/TimGreenMusic  
https://www.instagram.com/timgreen_music/ 
https://open.spotify.com/artist/68vO4fkFxLbWPxTSHosxsB 
Featuring Artists:
Lhor | Cross Pollination | Los Angeles
https://soundcloud.com/lhormusic 
https://www.instagram.com/lhormusic/ 
https://open.spotify.com/artist/50TwVB2LwLeRcJaSg1193W?si=E_ZTu87QQxS0b1QkRjnvOA  
Jen Nuñez | Sentient Productions | PGH
https://soundcloud.com/jennunez 
https://www.instagram.com/jen_nunez86
In the era when America's Rust Belt got its name, factory workers labored on a 12-hour day or night shift for two weeks straight. To switch shifts, one group would have to work 24-hours straight and cover the labor gap. This grueling shift became known as the Longturn.
Longturn music was founded to give people with day jobs a space to spend their second shift. No bottle service, no passwords, just a dance floor filled with good people and good music.
Come early, stay late, dance hard
Join the Conversation
Follow the event with #LongturnMusic