Legends Night!
Wed. Oct 18, 2023 at 7:00pm EDT
Event Description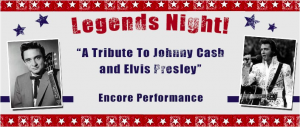 Back for an unprecidented seventh season, this show's popularity keeps growing!
Elvis was one of the greatest entertainers in American history. The Amish Country Theater's own, Donnie Abraham, staying true to The King's style, will pay a special tribute to the music of The King of Rock -n- Roll and much more! Johnny Cash, the Man in Black, was a singer, guitarist, and songwriter whose innovative music mixed country, rock, blues and gospel influences. Enjoy a masterful tribute from John Schmid whose deep country voice and rich storytelling transforms the show to feel like you're listening to the Man In Black himself. You'll also enjoy John's one-of-a-kind music flavor and fun guaranteed to make this special engagement one-of-a-kind.