LeakyCon 2022: Denver
Fri. Oct 14, 2022 at 9:00am - Sun. Oct 16, 2022 at 6:00pm MDT
Event Description
Join Harry Potter fans from across the globe as we gather in Denver, CO for a weekend-long celebration of The Boy Who Lived and the extraordinary impact his story has had on both the Wizarding and Muggle worlds.
LeakyCon Denver will take place October 14-16, 2022 at the Crowne Plaza Denver Airport Hotel and Convention Center in Denver, Colorado.
---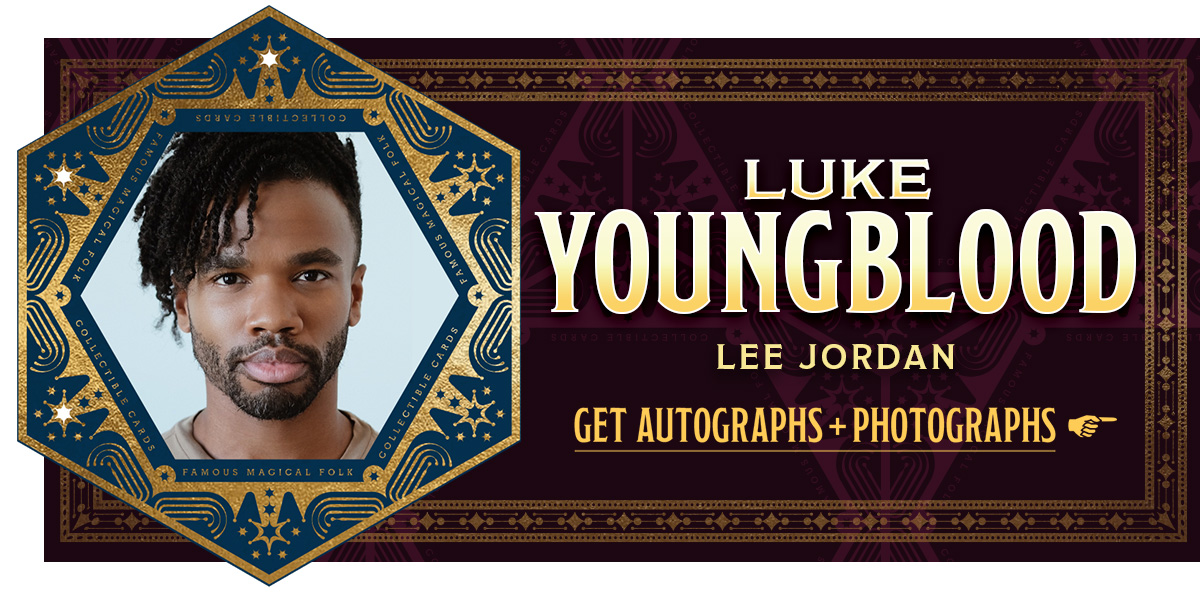 Enjoy hours of panels, programs, and performances created with the biggest Harry Potter fans in mind. Discuss age-old Potter fan theories, celebrate the magic of fandom, and engage critically with the content that we love.
Hear from stars and creators of the Harry Potter films about their experiences bringing the magic to life on-screen, explore the LeakyCon Marketplace to find must-have merch and amazing fan treasures, and rock out with some of your favorite Wizard Rock bands, all packed into one unforgettable weekend.
Are there any age restrictions to enter LeakyCon?
Fans of any age are welcome to attend LeakyCon but, just as Harry had to be 11 to attend Hogwarts, our recommended minimum age for LeakyCon attendees is 11 years of age. Children under the age of 5 may attend for free with a registered parent or legal guardian. (More info.)
What do I need to check in?
You will need to present a printed copy of your print-at-home ticket and a completed permission form, if applicable, when you arrive on-site. If you chose to have your badges mailed to you ahead of the event, you do not need to check in when you arrive at the event. (More info.)
Are there ID requirements?
No ID is required to purchase a ticket, however, if you are interested in purchasing alcohol during the evening events, you must present a government-issued photo ID verifying that you are over 21.
Is it possible to change or cancel my ticket?
Tickets may be upgraded or transferred by contacting Showclix (subject to availablity). However, there are no downgrades or refunds. (More info.)
Is LeakyCon accessible for people with disabilities?
Absolutely! We strive to make our events accessible to all attendees. When you purchase your ticket, you will be prompted to give us more information about your specific needs so we can better tailor our services. More information about accessibility services can be found here.
Is there a Code of Conduct for attendees?
Yes, of course! A huge piece of the Mischief Management mission is creating a fun, safe, accepting, and welcoming space where fans can celebrate what they love. You can read the full Code of Conduct on our website.
Can I cosplay? What is your policy on costume weapons?
Yes, we welcome and encourage you to cosplay at LeakyCon! Real weapons of any kind are expressly forbidden on the premises of any Mischief Management event. Please see our Code of Conduct for more information.
Will there be an opportunity for autographs and photographs with guests?
Yes! Autographs and photographs with our special guests are available here. Please note that autographs and photographs will come with additional cost. Marauder Pass holders receive a voucher to redeem on autograph or photograph experiences with special guests.
Can I volunteer at LeakyCon?
Yes, we couldn't have this event without our team of volunteers. Email volunteers@leakycon.com for more info.
More questions?
Email us at help@leakycon.com and a member of our customer service team will get back to you as soon as possible. Please be sure to specify LeakyCon Denver in the body of your email.
Please note: While LeakyCon tickets are transferable, you should only buy LeakyCon tickets from the official LeakyCon page. If you purchase from another source, you risk buying a counterfeit or invalid ticket. LeakyCon is not responsible for tickets purchased from unofficial sources.



Once you purchase, you will receive an order confirmation email from Showclix on behalf of LeakyCon.




IMPORTANT: If you do not see your order confirmation in your inbox, make sure to check your junk/spam folder. If you still do not see your order confirmation, contact us at help@leakycon.com.




If you are having any other technical ticketing-related issues with your order, email support@showclix.com. For general info, visit www.leakycon.com.




All sales final. No refunds. Upgrades subject to availability.




Event is rain or shine.




Artists and schedule subject to change.




Early bird pricing ended on February 29, 2020.



Update 7/29/2021: Please note that due to COVID-19, this event has been postponed. The new dates are October 14-16, 2022 at the Crowne Plaza Denver Airport Hotel and Convention Center in Denver, Colorado. Previous purchases are still valid. See more at: https://www.leakycon.com/postponement
We are working to ensure that any currently announced guests will be in attendance at the new event dates. In the event that a guest is unable to attend, attendees who have purchased add-on experiences with the guests will be contacted directly with more information regarding refunds for those add-ons.