Lagniappe-Potpourri: Go!
Multiple Dates & Times
Event Description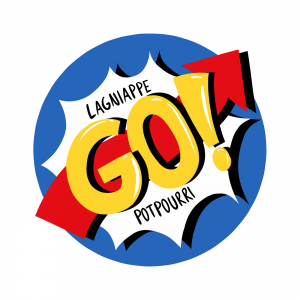 Dear Patrons:
We are so excited to open the show this week! Just a reminder that we have limited parking, especially during our Thursday and Friday performances, so we'd like to strongly encourage you to arrive early.
Parking is most plentiful in the Green Bay and Elder Beach lots. Friday patrons: Please expect extremely heavy traffic with little to no parking until 3:50pm.
The auditorium box office opens at 6:00pm on Wednesday and Thursday, and at 4:00pm on Friday.
Also a reminder to please have your receipt printed or handy on your phone in order to easily find your seat. For some mobile apps, the seat numbers appear on the 2nd page of your receipt, so make sure to check before entering the building. Our mobile connection in the auditorium can be slow.
If you are attending with your advisery, please check with your adviser if you should meet at a specific place and time. It will not be easy for ushers or front of house to check where your advisery is seated, so please try to have that information before coming to the show.
Thanks!
Performing Arts Division
Lagniappe-Potpourri: Go! kicks off the New Trier High School Performing Arts Season Wednesday, September 18 and Thursday, September 19 at 7:00 pm and Friday, September 20 at 4:30 pm in the Gaffney Auditorium on the Winnetka Campus.
Lagniappe-Potpourri is New Trier's annual variety show. Students contribute at all levels of the production and decision-making process including building, choreographing, composing, conducting, designing, directing, lighting, managing, marketing, performing, and writing. Lagniappe-Potpourri gives student board members the opportunity to work with specialized mentors to develop as leaders and feature student designers, technicians, musicians, dancers, writers and performers.
Over 120 students come together to make the show a reality. The leadership board began work this past spring putting together auditions, writing and composing sessions, and planning for rehearsals. The crew, band, and performers came together in August to prepare for the performances in September. Lagniappe-Potpourri may be one of New Trier's longest running traditions, and that spirit is vibrant among the students who are ready to bring the tradition to a new generation of Trevians.
PIT BAND
Flute - Selena Deng, Hitomi Ono, Piccolo - Emmi Rivkin, Clarinet - Ian McLellan, Seth Salkin-Weiss, Margaux Major, Alto Sax - Henry Witt, Tenor Sax - Nick Thabit, Baritone Sax - Jenna Oshana, French Horn - Ava Naghshineh, Trumpet - Noah Lolli, Fred Crone, Ben Eberle, Trombone - Ben Levens, Madeline Sheedy, Bass Trombone - Weillin Feng, Sousaphone - Caleb Albrecht, Violin - Stephanie Lee, Holden Schinzer, Michelle Lu, Maia Law, Viola - Anna Katz, Celia Goldstein, Cello - Eric Liu, Bradley Cui, Arjun Kaura, Guitar - Luke Karabas, George Wise, Bass - Austin Lyons, Harp - Natalia Scheinfeld, Keyboard - Nolan Kiser, Iris Ely, Percussion - Liam Fagan, Andrew Kearney
CAST
Miguel Alano, Logan Aldrich, Cammi Avery, Caroline Bennett, Isabelle Cowan, Isabel Dube, Rebecca Dubey, Quinton Eudy, Daniel Friedland, Bella Friedman, Adina Grossman, Joshua Grossman, Isabel Hajjar, Jonathan Hanold, Megan Hoying, Reed Jaberg, Lillian Jones, Katie Klaskin, Aaron Lamm, Ethan Lestrud, James McColl, Carter McDermott, Ian Michelson, Phoebe Moy, Billy Nayman, Emma Parks, Ericka Pugliese, Isabelle Roberts, Trenton Rothbard, Amelia Tam, Marie Tasiopoulos, Grace Tobey, Elias Wachtel, Evie Wigdale, Isabella Wojewski, Renee Zhou, Gabi Zinman
LEADERSHIP BOARD
Cameron Baba, Elijah Barker, Jasper Bickers, Henry Blasingame, Jules Brown, Sara Bunge, Erin Donohue, Benjamin Eberle, Anna Feinerman, Isa Figlioli, Paul Graham, Elizabeth Hoffhines, Ethan Hoffman, Charlotte Jaffe, Kirsten Krieman, Maia Law, Kathryn Madigan, Isabel Mangum, Reagan Maydew, Lucy McDowell, Rachel Miller, Kira Noe, Julie Oelerich, Reilly Oh, Jake Rasof, Spencer Rosin, Zach Stein
SCENIC CONSTRUCTION AND STAGE CREW
Olivia Babolea, Bella Baratta, Charlie Baron, JJ Bedwell, Alia Birgé, Caroline Bliss, Sadie Block, Julia Burnham, Amelia Capretta, Jasmine Clark, Chloe Cohen, Isabella Cohen, Amelie de Leeuw, Isabel Dolan, Lizzy Embree, Natalie Fischer, Charles Foster, Grant Gaechter, Sydney Gaines-Wheeler, Matthew Geis, Sam Gordon, Emma Greenlees, Margaret Griffin, Charlie Hayden, Caroline Hinrichs, Lilly Hunsader, Zoe Jagher, Meeghan Jakob, Annika Juliusson, Hannah Kaplan, Hannah Kaplan, Hope Kim, Ally Kleinmann, Naomi Kravitz, Paige Lawless, Tiger Lee, Caroline Lloyd-Jones, Owen May, Owen Meehan-Egan, Reese Melsher, Rebecca Miller, Rachel Miller, Sarah Moore, Jake Moskow, Svaja Nicklin, Molly Nowak, Elizabeth Owen, Maya Palomino, Samantha Palomino, Valerie Partida, Bailey Pommer, Dominic Reardon, Emma Ruemmler, Fiona Sack, Serena Seiple, Paige Sheridan, Pearl Shing-Roth, Harold Stricklin, Rebecca Weidemanis, Katie Weis, Jonathan Wolf
COSTUME CREW
Bella Baratta, JJ Bedwell, Alia Birge, Sam Gordon, Emma Greenlees, Caroline Hinrichs, Zoe Jagher, Owen Meehan- Egan, Charlie Plunkett, Bailey Pommer, Emma Rhumler, Pearl Shing- Roth, Serena Seiple
SPONSORS/MENTORS
Nina Lynn - Sponsor, Producing Mentor
Ryan Dunn - Sponsor, Sketch Writing Mentor
Matt Temple - Sponsor, Music Mentor
Emily Arnold - Costuming Mentor
Bruce Daugherty - Band Mentor
Dave Ferguson – Scenic Mentor
Grover Holloway - Sound Mentor
Anders Jacobson - Technical Direction and Properties Mentor
Denise Karczewski - Lighting Mentor
Hilerre Kirsch - Directing Mentor
Katie Kritek - Dance Mentor
Helen Lattyak - Stage Management Mentor
Malcolm Ruhl - Composing Mentor