La 2nda Feria Salsera
Sat. May 8, 2021 12:00pm - 11:00pm EDT
$30.00 - $200.00
All Ages
Event Stats
$30.00 - $200.00
All Ages
Event Description
LA FERIA SALSERA 2021 returns with it's 2nd annual Latin Food, Fair and Music Festival.
ARTISTS LINEUP:
VICTOR MANUELLE
LA SONORA PONCEÑA
CHARLIE APONTE
DIEGO GALÉ
ORQUESTA FUEGO
FRED LOPEZ
SON LATINO DE ORLANDO


GENERAL ADMISSION:
$20 TIER 3 NOW (Limited Time Only)


VIP TABLES:
$125 ASSIGNED VIP TABLE NOW (Limited Time Only)

This price includes:
- Front of stage viewing
- Private entrance
- Private bathroom
- Private bar
- Waiter service + FREE plate of food per customer by El Cilantrillo Restaurant

$100 ASSIGNED VIP TABLE  NOW (Limited Time Only)

This price includes:
- Private entrance
- Private bathroom and bars
- Waiter service to take your orders

STANDING VIP:
$60 STANDING VIP  NOW (Limited Time Only)

This price includes:
- Private entrance

No se permiten sillas de playa ni ningún tipo de sillas en esta sección / Beach chairs or any type of chairs are not allowed in this section

Come and enjoy a Saturday funday like no other, bring your entire family. Dance to the rhythm of Latin music, enjoy culinary delights from the Caribbean, Central Florida kids zone and lots of fun. Kids 12 and under are FREE. Don't miss this year's super production never before seen. Three headline artists with LIVE music starting at 12pm; small chairs are permitted. 
This year we have doubled our VIP in size and added more amenities. Experience LA FERIA SALSERA at another level in the VIP. Front of stage views, reserved tables and chairs with service, private entrance with no line, private bathrooms, bars and food service available too. Lots of surprises in the VIP this year at LA FERIA SALSERA 2021! For VIP information call 407-791-8784.


MEET & GREET con Ethan Schwartz
Con tu boleto para el evento podrás conocer a la estrella de la serie Súbete a mi Moto. Pendientes a nuestras redes para todos los detalles.


SALSACRUISE.COM in partnership with LAFERIASALSERA.COM
STOP BY OUR BOOTH & BUY YOUR RAFFLE TICKET FOR A SALSA CRUISE FOR 2 ADULTS. IMPORTANT: OVER 21 WITH PASSPORT.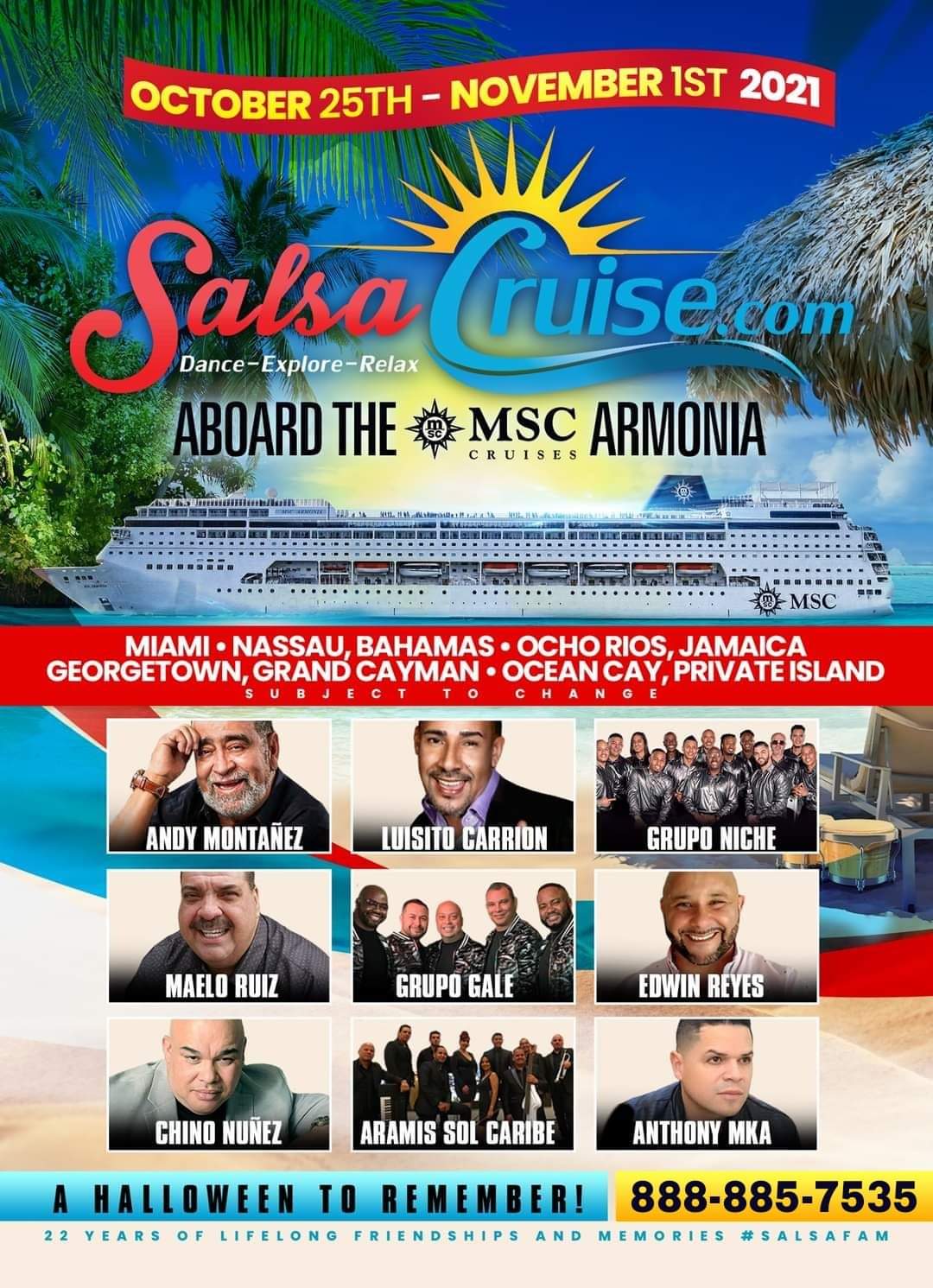 Join the Conversation
Follow the event with #laferiasalsera