Kreator
Thu. Mar 23, 2017 at 6:00pm MDT
Event Description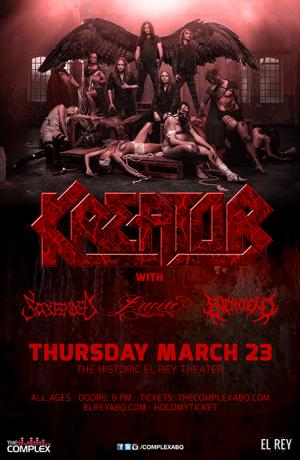 The Complex & Dead Nation Presents
KREATOR
With
Suspended
Lucia
End To End

http://kreator-terrorzone.de/
Being around for nearly 30 years, Germany's biggest export in thrash metal, KREATOR, have proven to be persistent, innovative and an unstoppable force. Miland "Mille" Petrozza have inspired generations of young bands with their early efforts like "Endless Pain" (1985), "Pleasure To Kill" (1986) or "Extreme Aggression" (1989), but also made statements by their most recent outputs "Violent Revolution" (2001), "Enemy Of God" (2005) and "Hordes Of Chaos" (2009).
Enter 2012, KREATOR have finally found a new home with Nuclear Blast Records and deliver the most diverse, melodic and intense album of their entire, long running career. Produced at renowned Fascination Street studios in Örebro, Sweden with famous producer Jens Bogren (OPETH, KATATONIA, AMON AMARTH, SYMPHONY X), "Phantom Antichrist" comes with a clearly transparent, powerful and thundering sound. The classic and impressive artwork which makes the package just perfect was created by Wes Benscoter, who had worked with the likes of BLACK SABBATH, DIO and SLAYER before.
Musically as well as lyricwise "Phantom Antichrist" showcases everything KREATOR stand for, even taking it to the next level. Be it pure KREATOResque thrashing madness, solos that actually aren't only there for statistics but can really be described as what they are and make you wanna shred your personal air guitar all night long, or the most epic moments you've ever heard on any KREATOR album – this is what you've been longing for the past 3 years and we can only aggree with Mille, who states:
"It will blow everything away, the "Big Four" have released in the past few years! Prepare to get your face ripped off!"
Join the Conversation
Follow the event with #complexabq
View Everyone
Who's Going?

Brian D

David G

Burtis G

Nick M

Richard D