An Evening with Judy Gold
Sat. Nov 11, 2023 at 8:00pm EST
$25.00 - $30.00
18 and Over
Event Stats
$25.00 - $30.00
18 and Over
Event Description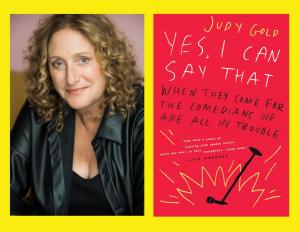 The 32nd Edition of the Book Festival of the MJCCA Presents
An Evening of Comedy with Judy Gold
Yes, I Can Say That: When They Come for the Comedians, We Are All in Trouble
PRESENTED BY NERANENAH and ATLANTA JEWISH FILM FESTIVAL
Community Partner: JELF--Jewish Educational Loan fund
Join us for an evening with one of the funniest women on the planet, the one and only Judy Gold. Judy was last seen on the MJCCA stage for her off-Broadway hit show, 25 Questions for a Jewish Mother. In addition to her work in comedy, Judy is also an actress, television writer, and noted producer.
She won two Daytime Emmy Awards for her work as a writer and producer on The Rosie O'Donnell Show, and has starred in comedy specials on HBO, Comedy Central, and Logo. She has also written and starred in two critically acclaimed, Off-Broadway hit shows: The Judy Show—My Life as a Sitcom and 25 Questions for a Jewish Mother. She is currently the host of the hit podcast Kill Me Now.
Following Judy's comedy set, she will be signing her most recent book, Yes, I Can Say That, which is a thoughtful and hilarious polemic on the current efforts to censor comedians, arguing that they undermine the art—and purpose—of comedy itself. In this era of partisan politics and gaping inequalities, Yes, I Can Say That is the refreshingly candid, wickedly funny and deliciously blunt manifesto we need.
Books will be available for purchase on the evening of the event from our partner bookseller, A Cappella Books!