Illuminati Hotties and Fenne Lily at SPIRIT Hall
Sun. Feb 27, 2022 at 6:00pm EST
Event Description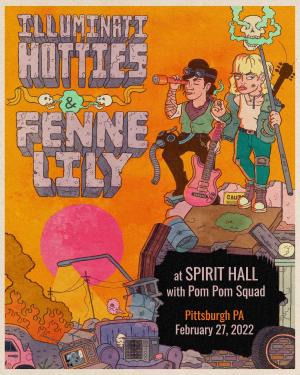 SPIRIT Presents:
Illuminati Hotties and Fenne Lily
with Pom Pom Squad
Sunday February 27, 2022
at SPIRIT Hall
242 51st Street, Pittsburgh PA 15201
ALL AGES | $15
doors @ 6 | show @ 7
**Proof of vaccination, with final dose at least 14 days prior to show date, will be required to enter the venue**
artwork by @doomsday_soiree
ABOUT Illuminati Hotties:
After years of uncertainty including label disputes, unpaid royalties and a surprise (and successful) album drop,And she is ready to make some noise. Her new album Let Me Do One More is three years in the making and Tudzin's most defiant and accomplished record to date. Let Me Do One More will be out on October 1st via Snack Shack Tracks (in partnership with Hopeless Records.)

After the success of her debut album, Kiss Yr Frenemies, and coining the term "tenderpunk," illuminati hotties were on their way to recording and releasing a highly-anticipated sophomore album. However, things at the label started to fall apart, and illuminati hotties found themselves stuck in a contract with a label who didn't have the infrastructure to put out the album the band had been crafting for months. "It felt like any momentum came to a screeching halt. It felt painful to pick up a guitar, to write, to record any loose ends that needed to happen to wrap up the album," Sarah recalls.

With the emotional turmoil and uncertainty building over the label situation, Tudzin turned her focus to a new batch of songs that would become FREE I.H. Funneling all the raw feelings and letting go of any inhibitions, illuminati hotties released the collection of songs, carefully not defined as the "new album." The critically-acclaimed, fan favorite, release closed the chapter on the label drama, and opened up the band musically to a whole world of possibilities.

The positive response to FREE I.H. brought back the energy and intention that had seeped out after the label fallout, and Sarah dove straight into the new album, Let Me Do One More. According to Sarah, "The songs tell a story of my gremlin-ass running around LA, sneaking into pools at night, messing up and starting over, begging for attention for one second longer, and asking the audience to let me do one more."

With the album shaping up, Sarah knew that she didn't want to sign a traditional label deal anymore. After all the work to get herself back creatively, she wanted to maintain as much autonomy and creative control as possible. She started an imprint label, Snack Shack Tracks, and partnered with Los Angeles-based, independent label, Hopeless Records. Together, they're gearing up to release Let Me Do One More.

While FREE I.H. felt like an experimental conduit for self-expression at breakneck speed, Let Me Do One More is the fully-realized creative vision of two years of ambition, heartache, uncertainty, redemption, and ultimately triumph. Sarah reflects, "I love these songs and they're a part of me and I'm proud of them."

This IS the one you've been waiting for.
ABOUT Fenne Lily:
At the age of 23, Fenne Lily is a recovering catastrophist. In the world of
her music, Fenne's inveterate vulnerability transforms what-ifs into worse
case scenarios, hypotheticals into heartache. This heart-on-sleeve ethos
spawned her early songwriting and colored the emotional intensity of her
already confessional work. Now, she's facing this tendency towards
emergency head on.
"Hypochondriac," the Bristol singer's debut single on Dead Oceans, reflects
on this struggle and her own role in solving it. "It's the first in a collection of
tracks addressing myself as both the cause of and solution to my
anxieties." Somewhere between the guitar-first catharsis of early Big Thief
and the urgent honesty of Sharon Van Etten, Fenne finds the track's
footing.
Fenne's new material represents a graduation of sorts from the
relationship-based themes of her breakout On Hold, and from the rooted
plaintiveness of her vocal delivery. She wants dynamism. She wants to be
heard. "It's time for me to be loud if I wanna be loud and not feel like I'm
gonna piss anyone off," Fenne offers up. Though, it's not an abandonment
of these traits she's known for but a deliberate construction upon them.
Fenne says these songs are simply "a more grown up way of being all the
things I have always been and always will be."