Groovin with the Grove 6
Fri. Aug 25, 2023 at 10:00am - Sun. Aug 27, 2023 at 12:00pm EDT
$40.00 - $120.00
All Ages
Event Stats
$40.00 - $120.00
All Ages
Event Description
---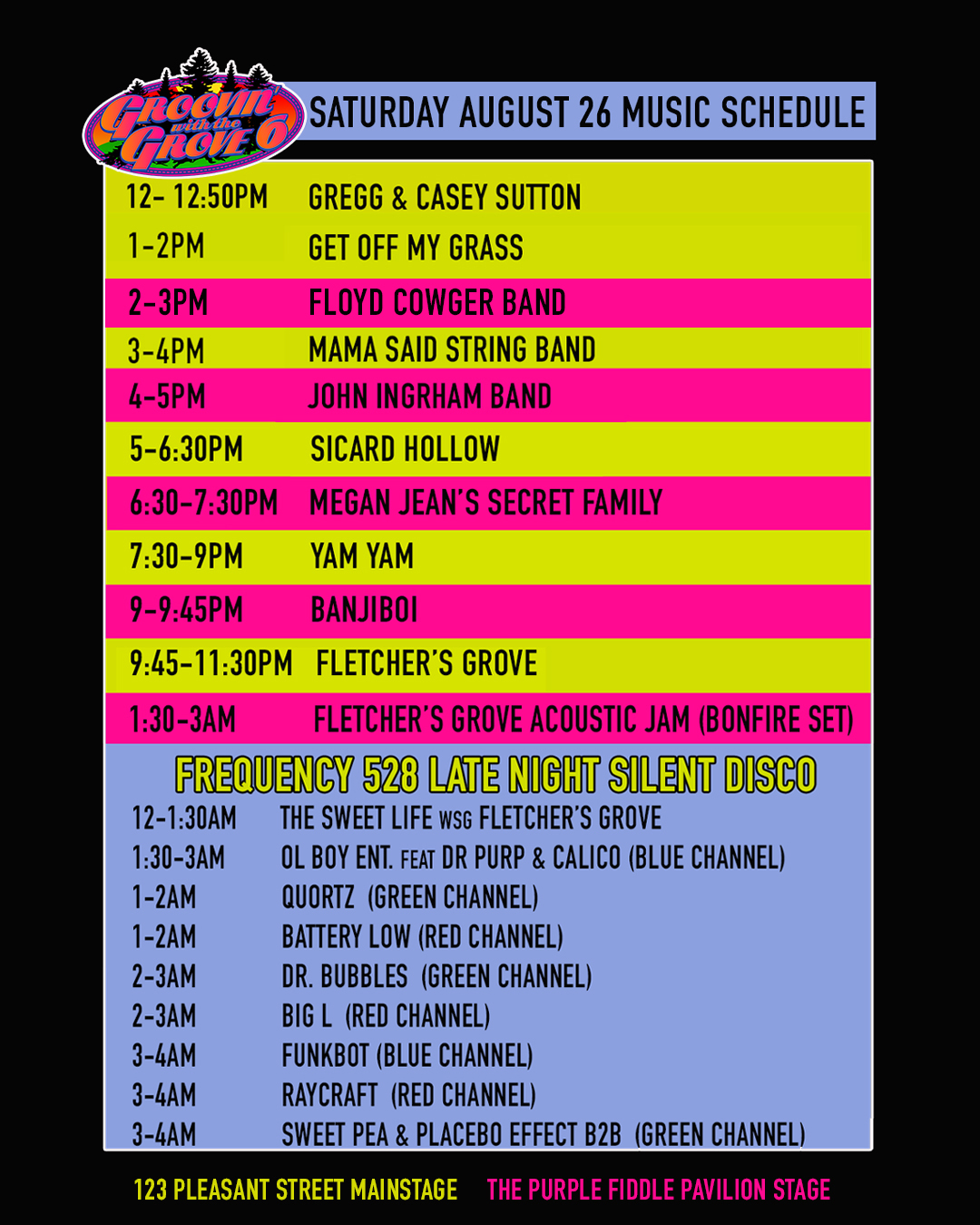 ---
---
---
---
Who's Groovin'?
Groovin' is all set to move to our new weekend on August 25-26th! We're thrilled to continue the groovin' vibes at our beloved Friends of the Cheat Campground in Albright, WV, and you can expect beautiful weather in August. Join us for two nights of incredible music featuring Fletcher's Grove and a lineup of over a dozen national, regional, and local acts representing various genres including Rock, Jam, Americana, Bluegrass, Funk, Reggae, Folk, Soul, Jazz, Hip Hop, Electronic, and more! We offer on-site camping options, including both general admission and premium choices, as well as RV camping. This event is hosted by Fletcher's Grove and Music to Your Ears Productions.
Weekend Pass EARLY BIRD UNTIL 7/10: $100 (No Surcharge, includes GA Camping)
Weekend Pass + GA Camping: $100 (Surcharge fee applies)
Weekend Pass + Premium Camping: $120 (Surcharge fee applies)
Friday with No Camping $40
Saturday with no camping $50
RV Pass (Must purchase Premium camping ticket separately): $50
KIDS 17 & UNDER ARE FREE WITH LEGAL GUARDIAN
ALL TICKETS INCREASE $30 AT THE GATE*
Please note that Friends of the Cheat Campground has a noise ordinance in place, which takes effect at 11:30 pm. At that time, the PA system on the main stage will be turned off, and we will transition to a silent disco sponsored by Frequency 528. Headphones will be available for use within the concert area. If you wish to take your headphones outside the designated area, we will collect a driver's license, phone, or cash deposit until the headphones are returned. Additionally, there will be acoustic bonfire jams each night led by Fletcher's Grove and Get Off My Grass. We kindly request that no amplified sound be played in the campground, including radios, stereos, or any device connected to an amplifier.
Groovin' with the Grove 6
August 25 & 26, 2023  (Gates 10am Friday - Music starts 1pm)
Friends of the Cheat Campground - 139 Beech Run Rd - Albright, WV 26519
MUSIC LINEUP:
YAM YAM
SICARD HOLLOW
MARVEL YEARS WSG JASON LEECH (SILEND SOUND SYSTEM SILEND DISCO HEADLINER)
TAND
HONEYCOMB (SILENT DISCO SET)
THE SWEET LIFE WSG MEMBERS OF FLETCHER'S GROVE
MAMA SAID STRING BAND
MEGAN JEAN'S SECRET FAMILY
BRAHCTOPUS
JOHN INGHRAM BAND
LORDS OF LESTER
TOM BATCHELOR BAND
GET OFF MY GRASS ( MAINSTAGE AND LATENIGHT ACOUSTIC SET)
INTOXICATED ZEN
BANJIBOI
SELDOM FREE WSG RYAN KROFCHECK AND JOHN INGHRAM
FLOYD COWGER BAND
EMMY OF THE MOUNTAINS AND FRIENDS 
GREGG AND CASEY SUTTON
CHRIS HARRIS
528 FREQUENCY SILENT DISCO
LANCELOTT
QUORTZ
SPIKE YEE & PROPER
DJ STEVE FRENCH
RAYCRAFT
BATTERY LOW
FUNKBOT
DR BUBBLES
OL BOY ENTERTAINMENT
SPACE GRACE
BIG L
SWEET PEA & PLACEBO EFFECT B2B
Sponsored by 123 Pleasant Street, The Loud, The Purple Fiddle, Live at the Shop, Black Bear Burritos, Chestnut Brew Works, Bad Shepherd Beer Co.
Production by Sub Aquatic and Sacred A/V Audio.
NO PETS ARE ALLOWED AT FRIENDS OF THE CHEAT CAMPGROUND DURING EVENTS. ONLY SERVICE ANIMALS WITH PROPER TAGS/VEST ON A LEASH ARE PERMITTED. THERAPY ANIMALS ARE NOT CONSIDERED SERVICE ANIMALS.
Friends of the Cheat Campground has an 11:30pm noise ordiance. No radios, amplified sound, or hand drums after 11:30pm. There will be Silent Disco and acoustic sets going simultanesouly late night. 
No fireworks are allowed.
Illegal drugs or substances are strictly prohibited.
Guns, bombs, large blade knives, or swords are not permitted.
Unauthorized fire performances are not allowed.
Fighting or harassment of any kind will not be tolerated.
Please clean up after yourself and leave no trace in the FOC campgrounds.
Beer and alcohol are allowed on the grounds but will not be sold. You must be 21 or older to consume alcohol and ID's will be checked and wristbanded at the gate. Please drink responsibly. DO NOT DRINK & DRIVE.
No EZUPs, tents, or umbrellas over 5 ft are allowed in front of the sound booth tent line.
Each campsite is allowed one car per every two people, and any additional cars must be parked in the day parking area.
Camping is available on a first-come, first-served basis.
Bathroom facilities and clean, sanitized portable toilets are provided on site.
City water faucets are available on site.
Charging stations are provided.
Fire pits are permitted with a ring or raised pit.
Firewood is available for purchase on site.
Phone service is generally good in most areas.
Gas stations can be found in both directions after leaving the main gate, and a Dollar General grocery store is located 4 miles away.
Get ready to groove and have an unforgettable weekend of music, fun, and camping at Groovin'!
INTERESTED IN VENDING?
EMAIL ADAM @ MUSICTOYOUREARSPRODUCTIONS@YAHOO.COM