Glassio, Alle The Dreamer, Michelle Pereira
Mon. Jul 10, 2023 at 8:00pm EDT
Price: 15.00 CAD $
19 and Over
Get Tickets
Details
Comments
Event Stats
Price: 15.00 CAD $
19 and Over
Event Description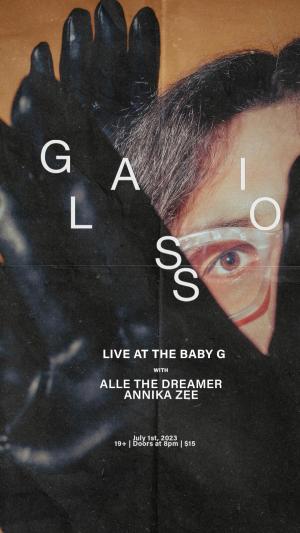 Glassio is the Alt-Dance/Dream-Pop project of Irish-Persian songwriter and producer Sam R. Often regarded as a pioneer in the melding of 1970s-Americana-influenced songwriting with modern Electronic-Pop, Brooklyn-based Glassio has carved out a unique space in New York's musical sphere over the past 7 years, breaking Spotify Viral charts around the world and bridging influences from Disco to Chamber-Pop.

The Poptimism EP was released in 2016 to critical acclaim and viral success with the lead single "Try Much Harder" peaking at No. 9 on the Global Viral Charts on Spotify. A series of singles and the Age of Experience EP followed in 2018, further cementing Glassio as "proof that electronic music and great storytelling are a perfect match."

His debut album, For The Very Last Time, was released via Downtown Music in 2020, garnering over 7 million streams online, and recognition from Bandcamp as one of the best electronic albums of the year. The record featured guest vocals from Brooklyn-based songwriter Daneshevskaya. A follow-up album, See You Shine, made waves in Europe, charting at No. 1 on multiple iTunes Charts around the world. The lead single "Breakaway" was featured in Amazon Studios' feature film Don't Make Me Go and Netflix's Locke and Key.

Outside of Glassio, Sam R. has collaborated with a variety of artists on their music and visuals, including warner case, Clubhouse, and French Horn Rebellion. He has remixed the likes of URCHN, Madge and Sulene.