Future Peers' Farewell Show Danceathon
Sat. Dec 7, 2019 at 8:00pm EST
Price: 10.00 CAD $
19 and Over
Get Tickets
Details
Comments
Event Stats
Price: 10.00 CAD $
19 and Over
Event Description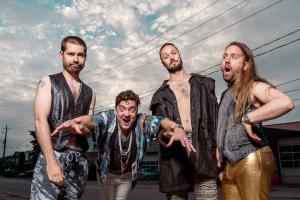 "FUTURE PEERS were hatched at the Banff Art Centre then formed between a cold garage in Toronto and a warehouse in downtown Los Angeles. They make music that sounds like it might be from the future. This energetic blend of avant-pop and anthemic bangers is a delight / assault to the senses. FUTURE PEERS live show ignites the crowd and injects the party back into a partiless existence. Shoes are for dancing, not for gazing. It's kinda like you smashed your Gucci glasses only to realize you prefer how the world looks through all the cracks and scratches. FUTURE PEERS are a scuffed up designer brand from the future. They are here to play music for you… Listen.
"It's your apocalypse potluck jam!" - Raina Douris, CBC's Q"

With Bonnie Trash, World News, and a very Special Guest


View Everyone
Who's Going?

Tanya V

Anna H

James C

louise c

Kire P