Fond D'Culottes
Fri. Jun 17, 2022 at 7:00pm EDT
Event Description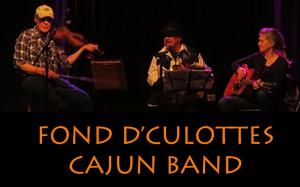 Fond d'Culottes is a Cajun band hailing from Durham, Chapel Hill, and Asheville North Carolina. Their songs and tunes are from southwest Louisiana's Cajun and Creole repertoire and feature Cajun French vocals, accordion, fiddle, guitar. The band members have been playing this music for 20-30 years, learning much of their music directly from musicians in Louisiana. They have also spent many hours studying recordings old and new and have backed musicians such as Marc and Ann Savoy, DL Menard, Tracy Schwarz, and Jesse Lege. The band loves to play dances and providing solid, danceable music is a number one priority!
Trent Van Blaricom (accordion,vocals) has performed and recorded with several Cajun and Zydeco bands over the past 3 decades including Zydeco Crayz, Atlanta Swamp Opera, and Savoir Faire. He's performed as a member of Delton Broussard's Lawtell Playboys, currently fronts Asheville powerhouse Zydeco YaYa, and plays fiddle with Charlotte's Carolina Gator Gumbo. Trent has also played with Louisiana performers Jesse Lege, Dennis Stroughmatt, Tracy Schwarz.
Matt Haney (fiddle) performed and recorded with the BoneTones and the Tracy Schwarz Cajun Trio in the 1990s. Both of these bands won the Cajun French Music Association's "Prix d'Hors de Nous" award for best Cajun recording by a band from outside Louisiana. He also plays fiddle with the MSA Ramblers, pedal steel with Trent in Carolina Gator Gumbo, and fiddle and guitar with the Piney Woods Boys.
Sara Ploense (guitar) anchors the rhythm section together. She took up Cajun guitar in the mid 1990s and has developed a driving Cajun sock rhythm style. She plays with the MSA Ramblers and occasionally with Jesse Lege when he visits North Carolina.
Join the Conversation
Follow the event with #Folkmoot