Hello Fiasco + Akiña + mountain.seed | CCFM
Fri. Feb 23, 2024 7:30pm - 10:30pm CST
75 days away
Price: 15.00 CAD $
All Ages
Get Tickets
Details
Comments
Event Stats
75 days away
Price: 15.00 CAD $
All Ages
Event Description
Le Festival du Voyageur présente La soirée Rock avec Hello Fiasco, Akiña et mountain.seed!

Série « Les artistes de chez nous » présentée par Sirius XM
Détails
Date : le vendredi 23 février
Portes ouvertes : 19h30
Spectacle : 20h
Lieu : Relais du Voyageur présenté par Air Canada (CCFM - 340, boul. Provencher)

NB : La Passe Voyageur n'est pas admissible aux spectacles du CCFM.
+++
Festival du Voyageur presents La soirée Rock featuring Hello Fiasco, Akiña and mountain.seed!

Details
Date: Friday, February 23
Doors open: 19h30
Concert: 20h
Location: Relais du Voyageur presented by Air Canada (CCFM - 340 Provencher Blvd)
Note: The Voyageur Pass is not admissible for the concerts at the CCFM.
Hello Fiasco
La formation Pop Rock Nord-américaine Hello Fiasco, qui tire des influences de Panic! At The Disco, The Killers et David Bowie, suit une trajectoire ascendante depuis le lancement du premier album « Find The Shoreline ». Jusqu'ici, le groupe s'est mérité au-delà de sept millions d'écoutes et s'assure une présence radio de NY à Los Angeles passant par Radio Canada.
Hello Fiasco is a Canadian-American Pop Rock band in the vein of Panic! At The Disco, The Killers, and David Bowie. Their debut album "Find The Shoreline" is a stand out with over 7M+ streams, 1M+ views on YouTube and over 40K+ trackable spins at radio.


+++
Akiña

Originaire de Saint-Boniface, Akiña façonne leur son instrumental-psych-rock sur une fondation éclectique. Ces quatre amis d'enfance poursuivent autant l'originalité que l'expérimentation, tout en créant des mélodies captivantes avec des rythmes qui risquent de s'infiltrer dans le sous-conscient de l'auditeur. Au courant des années, Akiña ont prit la scène à multiples salles de spectacles et festivals locaux, laissant une marque avec leur spectacle explosif. Ils travaillent actuellement sur un album qui sera lancé en 2024.

Originating from St-Boniface, MB, Akiña molds their instrumental, psych-rock sound from an eclectic mix of inspiration. These four childhood friends chase originality and experimentation, all the while creating captivating melodies and punchy grooves that risk finding their way into the listener's sub-conscious. Over the years, Akiña has graced the stages of many local clubs and festivals, leaving an impression everywhere they bring their explosive live show. They're currently working on an upcoming album scheduled for release in 2024.
+++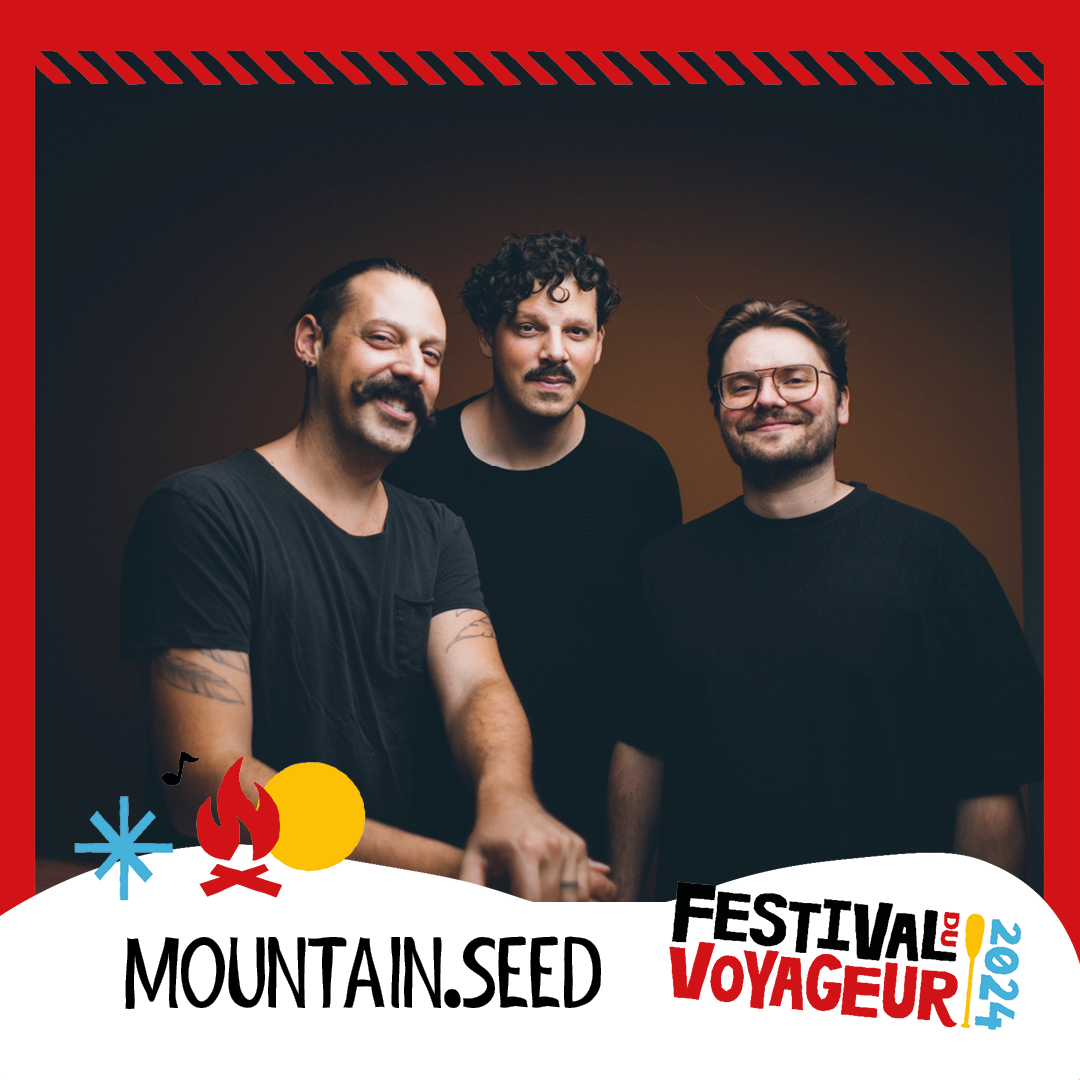 mountain.seed
Rock alternatif artisanal, réfléchi et exploratoire avec un arôme de prog, des notes de pop terreuse et des notes de folk moussu.
Descend en douceur et instille un sentiment de connexion.
Se marie bien avec la soupe aux pois.
Thoughtful, exploratory, indie rock with hints of earthy pop, notes of mossy folk, and an aroma of prog.
Goes down smooth and instills a connection to your surroundings.
Pairs well with caribou.
+++