EXTREME MONSTER TRUCK SUMMER NATIONALS
Multiple Dates & Times
Get Tickets
Details
Comments
Event Description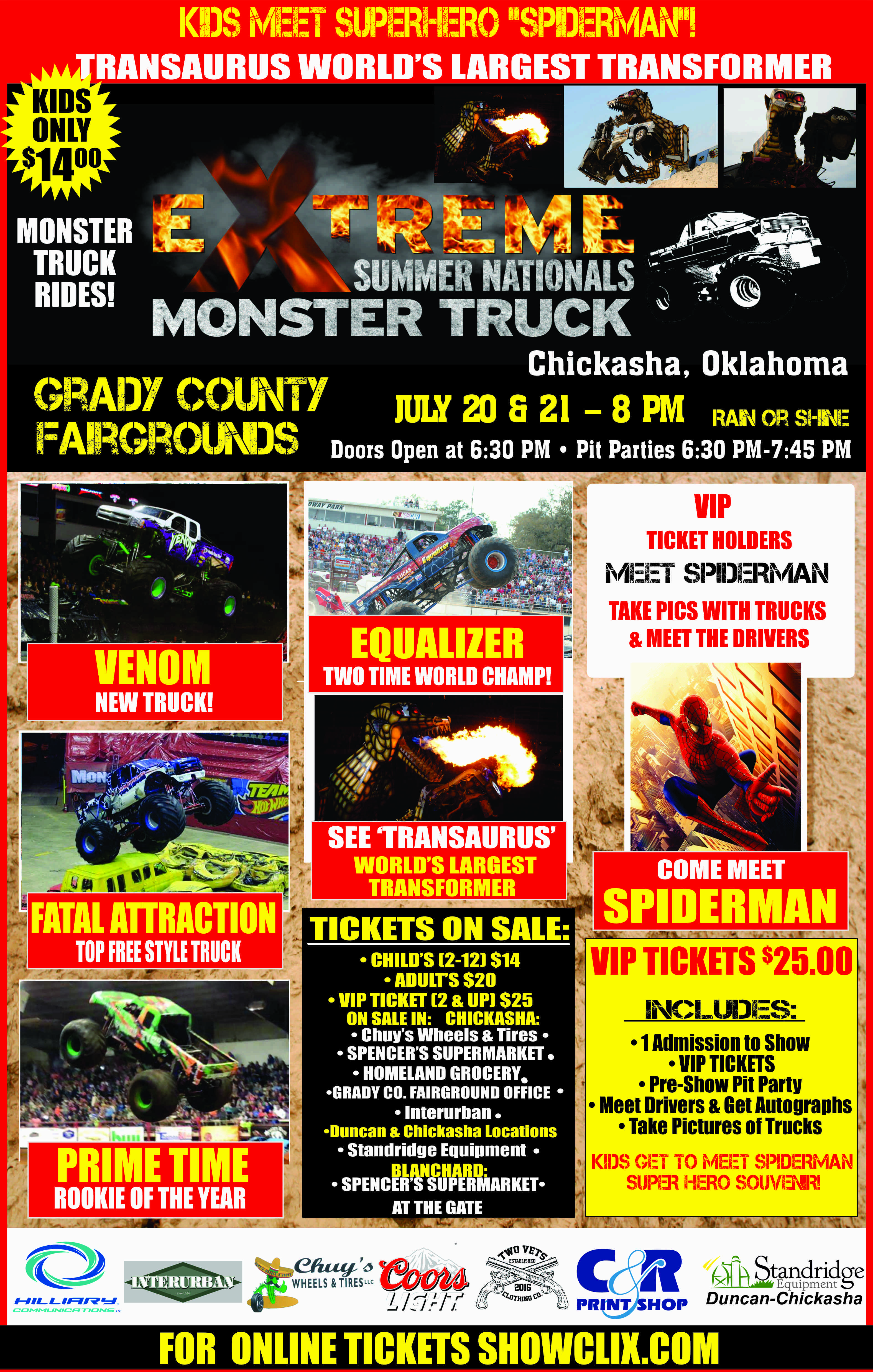 EXTREME MONSTER TRUCK SUMMER NATIONALS
2 GIANT SHOWS JULY 20-21 SHOWTIME 8 PM DOORS OPEN AT 6: 30 PM
OUTSIDE AT THE NEW GRADY COUNTY FAIRGROUNDS RODEO ARENA- CHICKASHA OKLAHOMA
WE WERE THE PROMOTERS FOR THE RECORD BREAKING MONSTER TRUCK SHOWS AT THE OKLAHOMA STATE FAIR. NOW WE ARE BACK AND READY TO BLOW YOU AWAY WITH HIGH FLYING NON STOP MONSTER TRUCK ACTION AT IT'S BEST! MONSTER TRUCKS WILL COMPETE IN A WHEELIE CONTEST, DONUT CONTEST, AND MONSTER TRUCK FREE STYLE. THERE IS $50,000.00 UP FOR GRABS. THE LOCAL FANS WILL BE THE JUDGES! TRUCKS SCHEDULED TO APPEAR ( AS ALWAYS TALENT SUBJECT TO CHANGE) TRUCKS INCLUDE:
'EQUALIZER' 2 TIME WORLD CHAMPION\
'HOT TAMALE'
'PRIME TIME''
'VENOM'
'TUFF ENOUGH'
'FATAL ATTRACTION' MONSTER JAM CHAMP
'SGT SMASH' WORLDS LARGEST MONSTER TRUCK
***DON'T MISS 'TRANSAURUS' WORLDS LARGEST TRANSFORMING, FIRE BREATHING. CAR EATING. DINOSAUR***
*** 130 MPH LEGEND CAR RACING. SEE THE BEST LEGEND CARS RACE FOR A $5,000.00 WINNER TAKE ALL PRIZE!
SPECIAL GUEST 'SPIDERMAN" GET A VIP TICKET AND MEET SUPER HERO 'SPIDERMAN" KIDS GET A SUPER HERO SOUVENIR, AND WITH THE VIP ATTEND THE PRE- SHOW PIT PARTY!