EDGAR DEGAS + General Admission
Fri. Apr 12, 2019 at 9:00am - Sun. Jun 16, 2019 at 4:00pm EDT
Event Description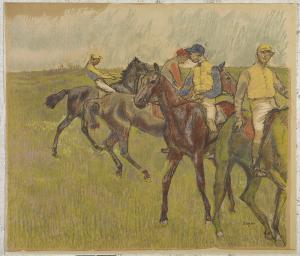 Edgar Degas: The Private Impressionist a travelling exhibition that closed at the Lightner Museum on June 16, 2019.
This special exhibition provides a rare look at over 100 original works on paper by the pioneering artist and his circle of friends. From the private collection of curator Robert Flynn Johnson and organized by Landau Traveling Exhibitions, Los Angeles, CA in association with Denenberg Fine Arts, West Hollywood, CA., Edgar Degas: The Private Impressionist offers unique insights into Degas' inner world. Johnson's collection includes more than 50 works by Degas himself along with a collection of drawings, prints, photographs, and monotypes created by Degas's inner circle of artists. Pieces offering a fascinating look at the artist's life and time include works by Mary Cassatt, Édouard Manet, Jean Leon Gerome, Alfred Stevens, Camille Pissarro, and Paul Cézanne to name a few.
Edgar Degas: The Private Impressionist is on view at the Lightner from April 12, 2019 – June 16, 2019. A fully illustrated catalog written by Degas scholar and Curator of the Royal Academy of Art, Ann Dumas accompanies the exhibit.
This ticket includes both general admission to the museum and admission to Edgar Degas: The Private Impressionist. The ticket is valid for any day between April 12th to June 16th 2019. Tickets do not have to be purchased in advance, but may be purchased beforehand for your convenience Children must be accompanied by an adult. The exhibit closes at 4:30 p.m. daily. Due to the exhibition, backpacks and large bags will be checked before entering the 3F gallery.