EddyFest night 2: Nice Horse with Aaron Pollock
Fri. Oct 5, 2018 at 8:00pm MDT
Price: 15.00 CAD $
All Ages
Event Stats
Price: 15.00 CAD $
All Ages
Event Description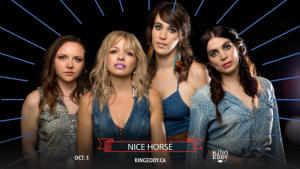 It's been a long time coming, Calgary! We're pleased to present a four-day music showcase to celebrate our official grand reopening. Eddy Fest will feature an eclectic mix of performances that represent the new Eddy mandate: all music for all people.
We're throwing down on Eddy Fest Friday, country style! Catch all-girl pop country group Nice Horse with Calgary's very own Aaron Pollock.
About Nice Horse
Nice Horse is what happens when four bold, brilliant and badass women get together to raise a little hell—and play a little music at the same time. This Alberta-based band is out to turn the tables on the country music world and show the guys that they can rock—and party—just as hard. Sure, there are plenty of strong female country artists in Daisy Dukes out there, but try to name another self-contained unit that plays their own instruments and writes songs as potent as "Jim, Jack, Johnnie & Jose," the new feminist anthem "Mansplainin'" and the band's current roof-raising single "Pony Up."
About Aaron Pollock
A passionate artist who wears his heart on his sleeve, Calgary-based singer/songwriter Aaron Pollock fits right in with fresh, bold, and soulful Nashville entertainers like Devin Dawson, Brett Young, and Brothers Osborne. Pollock's debut single "Nothing Much These Days" was was recorded at OCL Studios and released in May 2018. The deeply personal song is Pollock's ode to "the struggle to find meaning in the aftermath of losing true love". Having already racked up over 50,000 streams on Spotify, the single is slated to be followed up in fall 2018 by new music produced by Spencer Cheyne and Justin Kudding (Leaving Thomas, Jocelyn Alice, Brett Kissel).