Dorothea Paas, No Frills, Poolblood
Sat. Jan 8, 2022 at 8:00pm EST
33 days away
Price: 5.00 CAD $
19 and Over
Get Tickets
Details
Comments
Event Stats
33 days away
Price: 5.00 CAD $
19 and Over
Event Description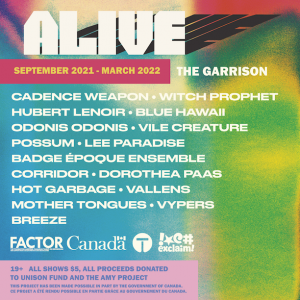 Anything Can't Happen is the long-awaited debut album from Dorothea Paas, one of Canada's most beloved singer-songwriters. For over a decade, Paas has played her unique, prismatic style of folk songcraft for audiences across North America, and lent her talents as a guitarist and vocalist to artists like Jennifer Castle, U.S. Girls and Badge Epoque Ensemble. The songs on this album have been through a near-infinite number of forms – Paas has played them solo and with a full band, electric and acoustic, at house shows and in sold-out venues. they manage to fit inside each context, like water taking the shape of its container.

All of this makes Anything Can't Happen feel far more mature and complex than a debut album. It's a statement of purpose, a next step in a decade-long process of artistic growth and evolution, and a bridge between the DIY style of Paas's previous cassette releases and a more refined studio sensibility. Recorded in studios in Hamilton and Toronto, and mixed by Max Turnbull of Badge Epoque and U.S. Girls and Steve Chahley, these songs bring a diverse range of musical influences into conversation: inflected with the layered reverberations of Grouper, shot through with the piercing harmonies of the Roches, electrified with the searing energy of Sonic Youth. You can hear Neil Young in the grittiness of the title track's guitar; Joni Mitchell's Hejira in the album's lyrics, Fairport Convention in Paas's voice. The influence of Stevie Wonder - one of Paas's greatest musical role models - is present too, in the album's conceptual foundations

with No Frills, Poolblood

As part of ALIVE:

The Garrison is pleased to announce ALIVE, an eight-month show series featuring Canadian acts, celebrating the return of live music. Beginning September 29, performing artists include Cadence Weapon, Witch Prophet, Corridor, Dorothea Paas, Odonis Odonis and more and will be joined by local acts and Dj's. All shows will have a ticketed price of $5 with all proceeds going to to the Unison Benevolent Fund and the AMY Project (Artists Mentoring Youth) .

**To minimize the impact of COVID-19, support the health and safety of our guests, and in compliance with city and provincial requirements, The Garrison is prepared to ensure all measures are taken to abide by the protocols dictated by Public Health Ontario.

this project has been made possible in part by the government of Canada. Ce projet a été rendu possible en partie grâce au gouvernement du Canada



IMPORTANT INFORMATION REGARDING PROOF OF VACCINE

The Ontario Government has mandated a Proof of Vaccine policy that takes effect on September 22, 2021. Ontario Government Proof of Vaccine receipt (digital or paper) and corresponding government I.D. will be required to enter and attend an indoor concert/event.

Information below how to access and download your Proof of Vaccine from the Ontario Government.

Once the Proof of Vaccine APP is available (October 22) we will be switching to that system that features a digital QR code.

https://covid19.ontariohealth.ca/

In advance of September 22, all Ontarians can print or download their vaccination receipt from the provincial booking portal. The Ministry is working on additional supports and services to assist Ontario residents who need help obtaining proof of vaccination, including requesting a copy be sent by mail. Those who need support obtaining a copy of their vaccination receipt including those who do not have access to a computer or printer can call the Provincial Vaccine Contact Centre at 1-833-943-3900.

Ontario is developing an enhanced vaccine certificate with a unique QR code to make it safer, more secure and convenient to show that you have been vaccinated, when required to do so. The enhanced vaccine certificate and verification app will be available by October 22, 2021. Ontario's proof of vaccination guidance will be updated to reflect the new processes.