D2TO 10 - Show # 1 at The Horseshoe Tavern
Fri. Feb 4, 2022 at 7:30pm EST
69 days away
Price: 15.00 CAD $
19 and Over
Event Stats
69 days away
Price: 15.00 CAD $
19 and Over
Event Description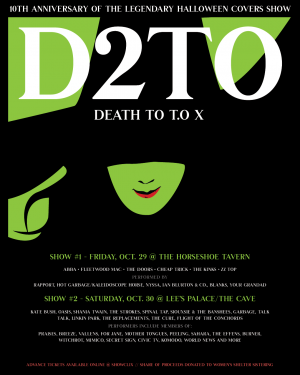 Due to strict COVID rules indefinitely requiring limited reserved seating for club venues, we are postponing this D2TO show to Friday, Feb. 4 at The Horseshoe Tavern (show #2 will be February 5 @ Lee's Palace/The Cave.).
Sorry for the the inconvenience but current rules allow an audience of only 128 people seated at designated tables, which would strangle the spirit of the show. We will keep posted on any line-up adjustments, but as of now almost all acts are confirmed for the new date.
Toronto's legendary Halloween weekend covers show/party celebrates its 10th anniversary with a two night extravaganza starting with this one - Friday, February 4 @ The Horseshoe featuring performances of..
ABBA, Fleetwood Mac, The Doors, Cheap Trick, The Kinks and ZZ Top performed by Toronto indie-rock artists Rapport, Hot Garbage/Kaleidoscope Horse, Nyssa, Ian Blurton's Future Now, Blanks, Your Grandad.
Doors 7:30pm... Show starts at 8pm
Share of ticket sales donated to Toronto womens shelter Sistering