3rd An. Crosstown Cookout ft. A-Trak | Mon Wharf
Sun. Aug 12, 2018 2:00pm - 11:00pm EDT
Event Description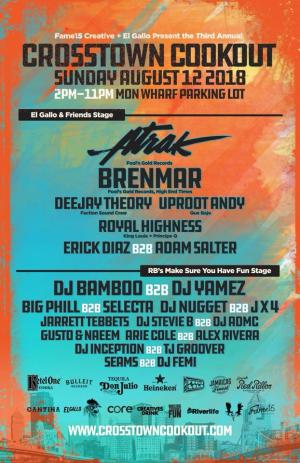 For the past two summers the Crosstown Cookout at Pittsburgh's Mon Wharf has been the epitome of summer's last hoorah. Kick back, soak up the sun reflecting off the river, eat from your favorite food trucks, drink handcrafted cocktails and ice cold brews, check out local artists and vendors, and soak up those last lazy summer vibes while you dance into the summer night.
WHAT'S NEW THIS YEAR?
We had so much fun in years 1 and 2, that this year... we've invited some of our friends to join in on the party planning. What does that mean for you? Well, this year... we're blowing the music lineup out of the water - pun intended - with a massive expansion in way of entertainment - with two stages full of a robust lineup of local DJs, as well as national party-rocking DJs. In addition, we're adding a vendor village for you to get your shop on, and the VIP area returns this year only this time with open bar. (What? Did someone say open bar!?)
WHAT'S THE SAME?
Just about everything else! We are still all ages (21+ to drink of course). We will also continue to be dog friendly to all friendly dogs.
And most importantly, this event still is held to bring attention to Riverlife and their initiatives. Riverlife is a local nonprofit organization that works with Pittsburgh's river fronts to transform wasted space into clean, safe, and enjoyable areas. Make sure you check out the Mon Wharf Switchbackwhile you are at the event. The Mon Wharf Switchback Ramp is a Riverlife project currently under construction that will connect trail users using the Smithfield Street Bridge, Eliza Furnace "Jail Trail" and Great Allegheny Passage safely and smoothly down to the eastern end of the Mon Wharf Landing, a linear park along the Monongahela River in downtown Pittsburgh. The ramp will be ADA accessible and fully lit at night.
LINEUP
main stage:
* A-Trak (Fool's Gold Records)
* BRENMAR (Fool's Gold Records, High End Times)
* DEEJAY THEORY (Faction Sound Crew)
* UPROOT ANDY (Que Bajo)
* Royal Highness (King Louie + Princípe Q)
local stage:
* DJ Bamboo b2b DJ Yamez
* Grind Hard (Selecta & DJ Big Phil)
* DJ Nugget b2b J X 4
* Jarrett Tebbets (Hot Mass)
* Pete Butta b2b DJ ADMC
* GUSTO & Naeem
* Arie Cole b2b Alex Rivera
* DJ Inception b2b TJ Groover
* Seams b2b DJ FEMI
TICKETS
GENERAL ADMISSION $20 online /$25 at the door
Includes:
- Entrance to Crosstown Cookout from 2pm-11pm
- Access to both stages
- Free parking at the Mon Wharf (please note parking, while free, is limited)
VIP (Hosted by Creatives Drink) $60 online /$75 at the door
Includes:
- Entrance to Crosstown Cookout from 2pm-11pm
- Access to VIP exclusive area with bar and restrooms
- Open bar from 2-6PM
- Free parking at the Mon Wharf (please note parking, while free, is limited)
Join the Conversation
Follow the event with #crosstowncookoutpgh