Con of Thrones 2021
Fri. Aug 6, 2021 at 10:00am - Sun. Aug 8, 2021 at 6:00pm EDT
Event Description
Update 6/5/2020: Please note that due to COVID-19, Con of Thrones 2020 has been postponed. The new dates are August 6-8 at the Hyatt Regency in Orlando Florida. Previous purchases are still valid. See more at: https://www.conofthrones.net/postponement
The premier convention for fans of Game of Thrones, A Song of Ice and Fire, and the epic worlds of fantasy author George R. R. Martin will take place August 6-8, 2021 at the Hyatt Regency in Orlando, Florida!
In its fourth year, Con of Thrones heads to Orlando to bring the biggest fans, actors, and creators together again! Created by and for the fandom in partnership with Watchers on the Wall, Con of Thrones is a three-day celebration of all things Game of Thrones. Go behind the scenes of the hit TV show with cast and creator interviews and panels. Show off your skills by cosplaying as your favorite characters. Take a deep dive into the history of Westeros in our Great Debates and keep the party going into the night with our aweome evening programming.
We are working to ensure that any currently announced guests will be in attendance at the new event dates. In the event that a guest is unable to attend, attendees who have purchased add-on experiences with the guests will be contacted directly with more information regarding refunds for those add-ons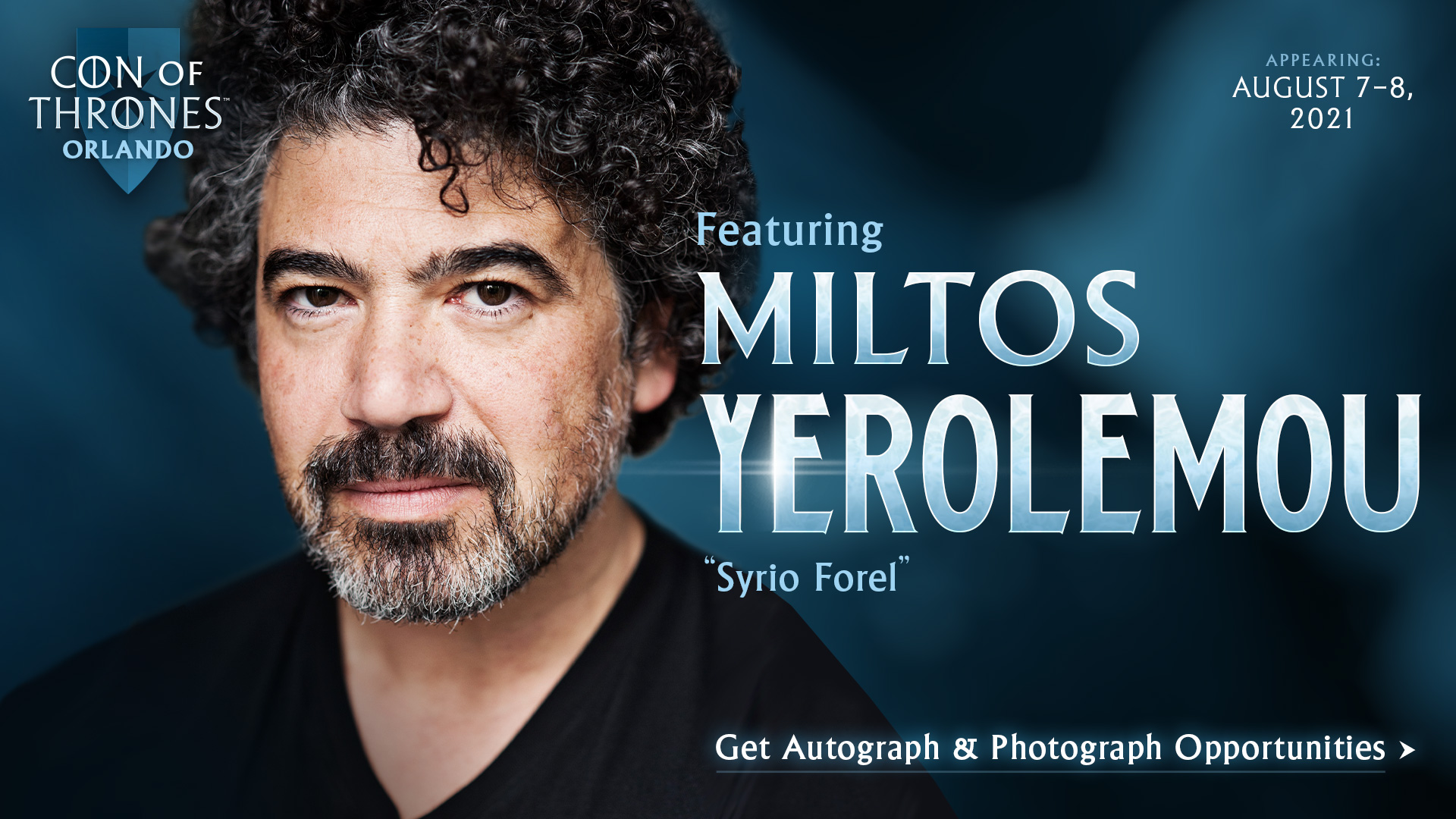 Con of Thrones Add-On Experiences are your chance to meet your favorite faces from TV, books, and film! Add-On Experiences are available for purchase here as they are made available.
Learn more at www.conofthrones.net
---
WHEN:
August 6 – 8, 2021
WHERE:
Hyatt Regency
Orlando, FL
---


Once you purchase, you will receive an order confirmation email from ShowClix on behalf of Con of Thrones.


IMPORTANT: If you do not see your order confirmation in your inbox, make sure to check your junk/spam folder. If you still do not see your order confirmation, click here to access the ShowClix help center.


If you are having any other technical ticketing-related issues with your order, click here to contact ShowClix. For general info, visit www.ConOfThrones.net.


All sales are final. No refunds. Upgrades subject to availability.


Event is rain or shine.


Artists and schedule subject to change.


Early bird pricing ended on January 13, 2020.


Are there any restrictions to enter Con of Thrones?
There are no age restrictions for attendees, however, we do advise parental discretion. As a reminder, Game of Thrones has been rated TV-M, which indicates that some content may not be suitable for children under the age of 17.(More info.)
Do I need parental permission?
Attendees under the age of 18 attending Con of Thrones without a registered parent or legal guardian must bring a signed and notarized permission form when they check in. The form can be downloaded here. Children under five may attend for free with a registered parent or guardian.
What do I need to check in?
You will need to present a mobile or printed copy of your order confirmation and a completed permission form, if applicable, when you arrive on-site. If you opt to have your event credential mailed to you prior to the event, you can skip Will Call and proceed into the event. (More info.)
Are there ID requirements?
No ID is required to purchase a ticket, however, if you are interested in purchasing alcohol during the evening events, you must present a government-issued photo ID verifying that you are over 21.
Is Con of Thrones accessible for people with disabilities?
Absolutely! We strive to make our events accessible to all attendees. When you purchase your ticket, you will be prompted to give us more information about your specific needs so we can better tailor our services. More information about accessibility services can be found here.
Is there a Code of Conduct for attendees?
Yes, of course! A huge piece of the Mischief Management mission is creating a fun, safe, accepting, and welcoming space where fans can celebrate what they love. You can read the full Code of Conduct on our website.
Can I cosplay? What is your policy on costume weapons?
Real weapons of any kind are expressly forbidden on the premises of any Mischief Management event. Please see our Code of Conduct for more information.
Will there be an opportunity for autographs and photographs with guests?
Yes. As guests are confirmed, you will be able to purchase autograph and photograph opportunities at www.conofthrones.net/addons
Can I volunteer at Con of Thrones?
Yes, we couldn't have this event without our team of volunteers. Email volunteers@conofthrones.net for more info.
More questions?
Email us at help@conofthrones.net and a member of our customer service team will get back to you as soon as possible.
Join the Conversation
Follow the event with #ConOfThrones