A Casual Dinner With The Boy Band Project!
Wed. Aug 26, 2020 at 6:00pm EDT
$150.00 - $600.00
All Ages
Get Tickets
Details
Comments
Event Stats
$150.00 - $600.00
All Ages
Event Description
Hot Summer Nights Dinner Series
Join friends and family for a special dinner at the Mansion's new Paper Mill Pub! Do Not miss this special dinner as seating is limited and reservations are required. The doors open at 5 Pm for dinner and cocktails with entertainment at 8 pm. Dinner, Cocktails, and Entertainment will be on the main deck where you and your party will be assigned a private table for the entire evening.
In keeping with New York State Department of Health Guidance there will be no communal tables and each table shall be members of the same party but may be from different households. Responsible guests shall maintain social distance, one entry point will be established for all guests, sanitizing stations will be provided and guests will be expected to wear face coverings when not sitting or standing at their dinner table.
Mansion Executive Chef Rick Bieber will serve his famous Mansion Dinner Salad, followed by your choice from a selection of Entrees along with an always scrumptious desert. Pitchers of Water, Iced Tea, and Lemonade are available, and the outside bar will be open for the purchase of beer, wine and cocktails.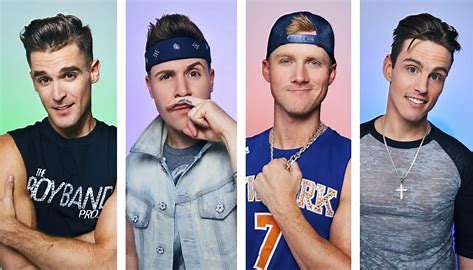 The Boy Band Project will be joining us for dinner and preforming around 8 PM following desert for a Retro-Rocking Fun Night.
Ready for some sexy, feel-good '90s nostalgia in these rocky times?
GREAT FOR ROMANTIC COUPLES OR A GIRLS NIGHT OUT!
"Get Behind My Love" is the debut original single and video (watch below) from the NYC-based group The Boy Band Project, an all-gay Boy Band cover group made up of Travis Nesbitt, Nic Metcalf, Kevin Raponey, and Jesse Corbin.
The fun they have reimagining the sound, movement, and energy of NSYNC, Backstreet Boys, Hanson, One Direction, 98 Degrees, O-town, BoyzIIMen, Jonas Brothers is evident in their debut video for "Get Behind My Love", which is an erotic tribute to 'Let's Get Physical' that pays homage to your favorite NSYNC and Backstreet Boys music videos.