BlackHawk, Restless Heart & Shenandoah
Wed. Aug 14, 2019 at 8:00pm CDT
Get Tickets
Details
Comments
Event Description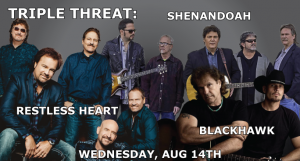 The Triple Threat Tour comes to South Dakota. BlackHawk, Restless Heart and Shenandoah will bring you back with hit after hit on Wednesday August 14th.
BlackHawk is an American country music group founded in 1992 by Henry Paul (lead vocals, mandolin, acoustic guitar), Van Stephenson (background vocals, electric guitar), and Dave Robbins (background vocals, keyboards). Several backing musicians also performed with the trio; however, these backing musicians were not officially part of Blackhawk until 2008.

Prior to the group's formation, Robbins and Stephenson had co-written several Number One singles for the country pop band Restless Heart, and Stephenson had also charted two pop hits in the early 1980s. Paul had previously been a member of the Southern rock band Outlaws as well as fronting his own band, the Henry Paul Band, from 1979 to 1983.

In 1993, Blackhawk was signed to a record deal with Arista Nashville. Their debut single, "Goodbye Says It All", was released that year, peaking at No. 11 on the Billboard Hot Country Singles & Tracks (now Hot Country Songs) charts, and their first album (1994's BlackHawk) was certified 2× Multi-Platinum by the RIAA. Throughout the rest of the 1990s, the band continued to chart several singles, in addition to releasing three more albums and a Greatest Hits package.

Van Stephenson departed the group in 2000 due to complications from skin cancer. He was replaced with Randy Threet (also a former member of the Outlaws), who made his first appearance on Spirit Dancer, the band's fifth studio album. After Threet's departure in 2003, Anthony Crawford took over as tenor vocalist and lead guitarist; Crawford was, in turn, succeeded by Michael Randall four years later. From early 2008 until he re-joined in 2010, Robbins left the group to resume his songwriting career, and Threet re-joined. Since then, BlackHawk's backing band has been subsumed into the main group, which comprises Paul (lead vocals, guitar, mandolin), Randy Threet (bass guitar, background vocals), Dale Oliver (lead guitar, background vocals), Dave Robbins (keyboards, background vocals), and Monte Yoho (drums, percussion).
Shenandoah is an American country music group founded in Muscle Shoals, Alabama, in 1984 by Marty Raybon (lead vocals, acoustic guitar), Ralph Ezell (bass guitar, backing vocals), Stan Thorn (keyboards, backing vocals), Jim Seales (lead guitar, backing vocals), and Mike McGuire (drums, background vocals). Thorn and Ezell left the band in the mid-1990s, with Rocky Thacker taking over on bass guitar; Keyboardist Stan Munsey joined the line up in 1995. The band split up in 1997 after Raybon left. Seales, Munsey, Thacker and McGuire reformed the band in 2000 with lead singer Brent Lamb, who was in turn replaced by Curtis Wright and then by Jimmy Yeary. Ezell rejoined in the early 2000s, and after his 2007 death, he was replaced by Mike Folsom. Raybon returned to the band in 2014. That same year, Jamie Michael replaced the retiring Jim Seales on lead guitar.

Shenandoah has released nine studio albums, of which two have been certified gold by the Recording Industry Association of America. The band has also charted twenty-six singles on the Billboard Hot Country Songs charts, including the Number One hits "The Church on Cumberland Road," "Sunday in the South" and "Two Dozen Roses" from 1989, "Next to You, Next to Me" from 1990, and "If Bubba Can Dance (I Can Too)" from 1994. The late 1994-early 1995 single "Somewhere in the Vicinity of the Heart," which featured guest vocals from Alison Krauss, won both artists a Grammy Award for Best Country Performance by a Duo or Group with Vocal.
Restless Heart is an American country music band established in 1984. The band's longest-lasting lineup has consisted of Larry Stewart (lead vocals), John Dittrich (drums, background vocals), Paul Gregg (bass guitar, background vocals), Dave Innis (piano, keyboards, guitars, background vocals), and Greg Jennings (lead guitar, mandolin, background vocals). Verlon Thompson was the band's original lead singer, but he was replaced by Stewart before the band had issued its first single. The band was established by record producer Tim DuBois, who wanted to create a studio band for the recording of songwriting demos. Between 1984 and 1998, Restless Heart recorded for RCA Records Nashville, releasing the albums Restless Heart, Wheels, Big Dreams in a Small Town, Fast Movin' Train, Big Iron Horses, and Matters of the Heart. Stewart departed for a solo career before Big Iron Horses, which resulted in Dittrich, Innis, and Gregg alternating as lead vocalists; Innis also departed before Matters of the Heart, and the band ultimately went on hiatus from 1994 to 1998. During this time, Jennings became a member of Vince Gill's road band, and Dittrich recorded one album as drummer for The Buffalo Club. Outside a brief reunion for new tracks on a Greatest Hits album in 1998, the band remained inactive until 2002, when Dittrich, Gregg, Innis, Jennings, and Stewart resumed touring, and issued the album Still Restless on Audium Entertainment two years later.
Join the Conversation
Follow the event with #BCFair