Bee Trapped Inside the Window
Multiple Dates & Times
Event Description
HartBeat Ensemble
Present
Bee Trapped Inside The Window
BeeTrapped Inside The Window explores domestic servitude's effect on the lives of three women of different backgrounds and ethnicities in the leafy suburbs of Connecticut. May is an Asian-American in-house domestic worker for a wealthy family with kids; Sasha is a Russian-American corporate executive with a drinking problem; and Mia is Sasha's black daughter, who is exploring and gradually understanding her own biracial identity.
Written as intercut interior monologues sliding into dialogue, the play follows Mia's coming-of-age story over the course of 15 years through her relationships with her mom and her neighbor, while offering a window into the lives of domestic workers and immigrants.
---
Written by Saviana Stanescu
Directed by Vernice P. Miller
Lighting Design by Jennifer Fok
Set Design by Norm Johnson Jr.
Costume Design by Carrell Johnson
Sound Design by Godfrey L. Simmons Jr.
Featuring Mami Kimura*, Erin Lockett, and Jennifer Dorr White*
Stage Managed by Rachel Russo
*Appearing through an Agreement between HartBeat Ensemble and Actors' Equity Association, the Union of Professional Actors and Stage Managers in the United States.
---
Bee Trapped Inside The Window is a live in-person theater event. Masks and proof of vaccination will be required. For more information on our COVID safety policies visit HartBeat's website HERE
Running Time: 90 minutes
---
Please join us for ENCOUNTERS: Bee Trapped Inside The Window, a special dialogue event that features small group discussions, on critical questions about the play, as well as specialist feedback and engagement. The Encounters Series is a program of UConn's Dodd Human Rights Impact Democracy and Dialogues Initiative.
Sat, May 7 at 10:00a - 12:00n | Carriage House Theater | Link to register HERE
---
MEET THE ARTISTS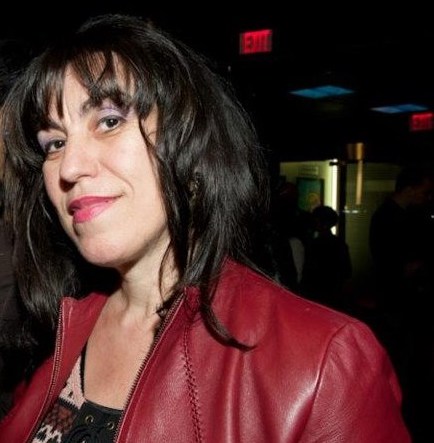 Saviana Stanescu (playwright) is a cutting-edge Romanian playwright, poet, and ARTivist based in New York/Ithaca. Her US plays include Aliens with extraordinary skills, Ants, White Embers (all published by Samuel French), Useless, Toys, For A Barbarian Woman, Lenin's Shoe, Waxing West (New York Innovative Theatre Award for Outstanding Play), What Happens Next, Bee Trapped Inside the Window. Honors include: Fulbright, Indie Theatre Hall of Fame, John Golden Award, KulturKontakt, Marulic Prize, Best Play of the Year UNITER Award. Saviana's plays have been developed/produced off-Broadway at Women's Project, La MaMa, 59E59, NYTW, EST, HERE, New Georges, Lark; regionally at the Hangar Theatre, Cherry Artspace, Civic Ensemble; and globally at Teatro La Capilla in Mexico City, Teatrul Odeon in Bucharest, Dramalabbet in Stockholm, etc. (www.saviana.com)
Vernice Miller (director) performer, director, producer, activist- stage work includes directing Three Women (Break the Silence) by anthropologist Dr. Omotayo Jolaosho at the Market Theater Laboratory in Johannesburg before touring South Africa. In Slovenia and Poland, she performed and co-directed Nomansland for Seth Baumrin's Subpoetics International. Miller directed the inaugural production of Bee Trapped Inside the Window by Saviana Stanescu, commissioned by Civic Ensemble in Ithaca, NY. For network television, she shadowed director Felix Alcala on the CBS series Madam Secretary throughout filming of season 6 episode 9 Carpe Diem. Miller has collaborated with jazz musician Wynton Marsalis on Eatonville, a Zora Neal Hurston project, and spent ten years working internationally with HBO comedienne Hazelle Goodman. She is currently an adjunct lecturer at John Jay College of Criminal Justice in NYC. In 1995 with Joann Maria Yarrow, they co-founded A Laboratory for Actor Training Experimental Theatre Company, to evolve work they began with Roberta Carreri at Eugenio Barba's Odin Teatret in Denmark. Miller is the recipient of the London New Play Festival's Best Actress Award for her solo performance of Medea: Now. (www.ALATetc.org)
---
Bee Trapped Inside The Window was originally commissioned and produced by Civic Ensemble as part of Civic Acts: New Plays Toward the Beloved Community.
HartBeat is supported by the Department of Economic and Community Development, CT Humanities, CT Office of the Arts, Greater Hartford Arts Council's United Arts Campaign, Hartford Foundation for Public Giving, National Endowment for the Arts, New England Foundation for the Arts Resilience Fund and Travelers.